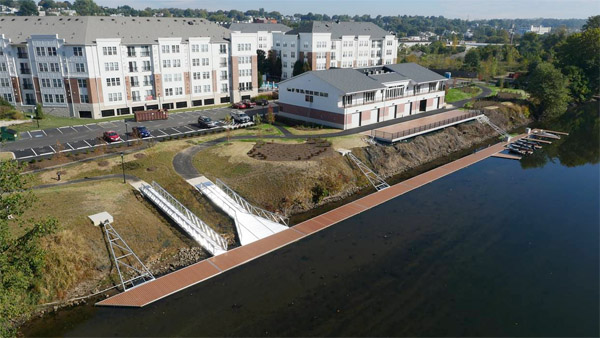 Rowing centers on the East Coast and across the United States want to ensure safety for their athletes and longevity for their rowing center investments. Not all floating docks perform well in varying situations, especially under the heavy use of a rowing season. There are several factors to be considered when a rowing club, school, college, or association, designs or purchases docks for their rowing center. BoardSafe is an expert in designing and manufacturing floating docks for rowing centers. The below characteristics are built into the unparalleled design and construction of each BoardSafe dock.
Environment
The first question for any rowing center project is, "Where is the rowing center located?" Floating docks manufactured for lakes that have little variation in water levels are much different from floating docks built for tidal waters, like bays and marshes, that see dramatic fluctuations in water levels. However, some lakes see elevation changes in water because they are river-fed or have floodgates. Rivers experience a constant downstream force and vertical movements with the change in seasons and weather patterns. These factors are calculated into the production of the docks — not only their long-term durability, but also their stability and integration. Integrating a floating dock into a rowing center includes many calculations, such as the size and location of the bulkheads, pilings (internal pilings guides or external piling guides), and gangways.
Stability
As mentioned above, stability is an important factor for floating docks in rowing centers as crewmembers board and exit their boats. Additionally, rowers must remove and carry their boats from the water. BoardSafe has a proprietary calculation for floating docks to adequately support many people, accommodate point loads, and maintain a consistent position above the water level. This includes the exact placement, size, and type of floating on the floating dock. BoardSafe rowing docks also have a 5-inch freeboard. This, coupled with the dock's overall stability, gives rowers confidence as they enter and exit their rowing shells.
Use
Rowing centers and rowing docks are obviously used for rowing. The real question is, "How are they used?" How many crews, staff members, and others, will be using the floating docks? What are the ideal dimensions for the floating docks, finger docks, and gangways? Where are the boats stored and loaded? What is the configuration of the rowing center, floating docks, finger docks, gangways, etc.? Are the boats parallel or perpendicular to the main floating docks when they are boarded?
Safe surfaces
BoardSafe specializes in manufacturing aluminum docks with composite or synthetic lumber. Specifically, BoardSafe uses NyloDeck, a composite lumber made of recycled carpet fibers, that contains no wood flour or PVC. This means that NyloDeck is ground-rated and resistant to rot, insect damage, and other wood afflictions. NyloBoard has a slip-safe surface, and the decking is held in place by the proprietary TimberStrong hidden fastening system. There are no face-nailing, splinters, or nail pops, and boards stay consistently in place over time.
High quality
All BoardSafe docks use the highest-quality materials. These include marine-grade 6160 aluminum, a proprietary extruded-aluminum frame, and plastic-encapsulated foam floats. The NyloDeck composite lumber decking on the floating dock is the only 1-inch composite deck board rated to span joists at 24 inches on center and at 16 inches on diagonals. It is twice as strong as other leading decking materials. Lightweight and easy to work with, NyloDeck is impervious to moisture, mold, mildew, and insects. The NyloDeck boards are fastened with a unique hidden fastener system developed by TimberStrong. Additionally, the hinges on the floating docks are mechanically attached to the dock. This means they are stronger. There is no welded connection holding the floating docks, like on competitors' docks, that can compromise the integrity of the dock. It also means that dock sizes can easily be increased by connecting additional floating docks together.
Options
BoardSafe docks are built smart. They are environmentally-friendly, offering a float-through-float design that allows light to pass through to vegetation and water, and debris and plants and wildlife to pass underneath unhindered. We recommend that rowing centers work with experienced dock manufacturers who can anticipate needs and issues as well as offer solutions that make the rowing center the best it can be.
BoardSafe manufactures aluminum floating docks, piers, and gangways. We have designed and manufactured numerous specialty projects, including rowing centers and ADA docks and boat launches. For more information on your rowing center project, marina, and commercial or residential docks, call 610-899-0286 or visit boardsafedocks.com/.