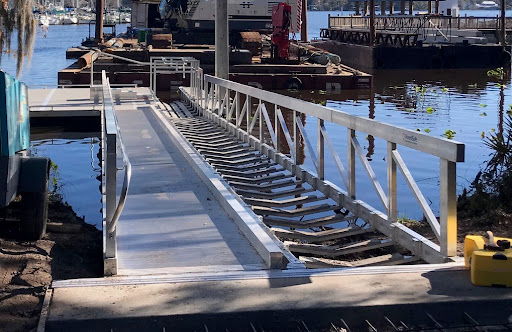 The City of Jacksonville, Florida, recently installed its fourth BoardSafe Adaptive Kayak Launch at their Mandarin Park location in December 2021. The fully-accessible launch is located at 14780 Mandarin Road, Jacksonville, FL, 32223-2650.
Jacksonville is home to the largest urban park system in the nation, and is committed to making its park system an equitable and inclusive destination for its city's residents and visitors. Enjoying the outdoors and taking advantage of the available activities offered through the city's parks and recreation department have been a priority for the city's administration.
Jacksonville is proud of its accomplishments in supporting adaptive recreation. Their rivers and waterways also support a wide variety of outdoor activities that include boating, fishing, bird and wildlife viewing, and a slew of special events that now can include and be attended by everyone. History and tourism also attract visitors to their city. Over the last several years, the Parks, Recreation, and Community Services Department has striven to improve its park facilities by making them equitable and inclusive destinations for people of all abilities. They're hoping others will help spread the word about their adaptive facilities and recreation programs, including their adaptive kayak launch systems that can be found at the updated Mandarin Park facility and other parks around the city.
Last year was the 30th anniversary of the Americans with Disabilities Act, and Jacksonville was pleased to share where they stand in supporting people with disabilities. The city created a video highlighting its efforts and identified adaptive recreation as a major initiative as part of its mission to make Jacksonville an accessible city for everyone. Adaptive paddling with the BoardSafe Adaptive Kayak Launch is highlighted 5 minutes and 30 seconds into their showcase video (below). Jacksonville is a river city as well as a beachfront destination, and they continue to find creative ways to be at the forefront of providing access to their natural resources, rivers, and the ocean, for people with disabilities.
Americans With Disabilities Act 30th Anniversary celebrated in Jacksonville.
Mandarin Park is located in the southeast section of Jacksonville, adjacent to Julington Creek. In addition to an adaptive kayak launch, there are accessible picnic shelters, walking trails, and ADA-compliant playground equipment.
How BoardSafe Docks helped improve Jacksonville's accessibility
The original Mandarin Park amenities included a boat ramp, floating docks, and a fixed fishing pier. However, prior to the existence of the ADA and Jacksonville's accessible initiatives, its parks were not originally designed with inclusivity in mind. The Mandarin Park site contained a large amount of vegetation along the shoreline and was not conducive to safe or easy access to the water. While people were drawn to the beauty of the area and its waterfront destination, the pre-ADA facility made accessing the water very difficult and challenging. Access wasn't safe for the adaptive paddler or their friends, family, and paddling groups who had to carry, lift, and maneuver an adaptive paddler into his or her kayak or canoe.
The upgrade to the Mandarin Park facility included increasing the number of aluminum floating docks in the boat ramp area and adding an accessible walkway along the shoreline that invites people in wheelchairs to a site they were previously restricted from using.
The BoardSafe Adaptive Kayak Launch allows paddlers a way to access their kayaking vessel and canoe both safely and easily. The facility update allows for people with disabilities to participate and enjoy the park, its facilities, pavilions, walking trails, and adaptive kayaking on the water along with their friends, family, and other user groups who may require specific adaptive features. It's become a popular destination for locals and tourists alike.
The height of the new walkway and mean low water elevations (that spanned 48 inches at its lowest and widest point) dictated that the length of the new gangway and chute be 53 feet long. Jacksonville mandates the slope of the gangways in their city to be no greater than a 1/20 pitch. Their required slope is actually more stringent than the 1/12 slope mandated by the Americans with Disabilities Act. Under ADA guidelines, the gangway would normally have been acceptable at 32 feet. However, Jacksonville's more stringent requirements increased the gangway length to 53 feet, thereby ensuring accessibility. What most people fail to realize or understand is that ADA standards identify minimum guidelines and standards. When structures are only designed and built to those minimum standards, they often exclude people with the most severe limitations and do not offer access to everyone.
The length of the 53-foot gangway was necessary to accommodate the 48-inches of elevation difference from the top of the water to the top of the gangway's connection point and allows for fluctuations in the rise and fall of the tide.
Where you can find other BoardSafe Adaptive Launch Systems in Jacksonville
The City of Jacksonville has contracted with BoardSafe Docks for four waterfront projects for their city. Brian Burket, Waterfront Project Manager for the City of Jacksonville, has headed up all four of these adaptive projects. Brian has recognized the high level of accessibility a BoardSafe Kayak Launch offers to the City of Jacksonville and its adaptive paddling community. Other BoardSafe Adaptive Launches installed by the city that align with their mission of making Jacksonville an inclusive and accessible city can be found at:
Bethesda Park, 10790 Key Haven Blvd., Jacksonville, FL, 32218
Kathryn Abbey Hanna Park, 500 Wonderwood Dr., Jacksonville, FL, 32233
Southbank Riverwalk, 1001 Museum Circle, Jacksonville, FL, 32207
BoardSafe's versatile launch system can also be used with canoes and standup paddleboards — there's a center void down the middle of the launch saddle that will also accommodate an SUP's rudder. The launches may be used by anyone but offer specific adaptive features so the launch can be used and enjoyed by everyone.
The cost for this inclusive and versatile launch system was approximately $85,000 and included an 8' x 20' aluminum floating dock, the adaptive kayak launch kit with multiple adaptive features, and a 53-foot gangway.
BoardSafe Docks is a trusted designer, engineer, and manufacturer, of all types of aluminum floating docks and fishing pier systems. Their adaptive kayak launch and design knowledge about specific adaptive features that are necessary for paddlers in wheelchairs help make inclusion happen for many cities, towns, lakes, and riverfront communities.
BoardSafe also specializes in designing and manufacturing rowing centers for national collegiate rowing teams all across the USA. You'll find their gangways located all across the United States in places like the TD Garden in Boston and Battery Park in New York. They find solutions to design questions that can leave architects and engineers scratching their heads.
BoardSafe is the go-to source for any project on the water. Their sales team is always available for questions, consultation, and to assist you with finding your optimal waterfront solution.
The most accessible kayak launch
To learn more about our projects, please visit our website, BoardSafeDocks.com, or call us at 610-899-0286.