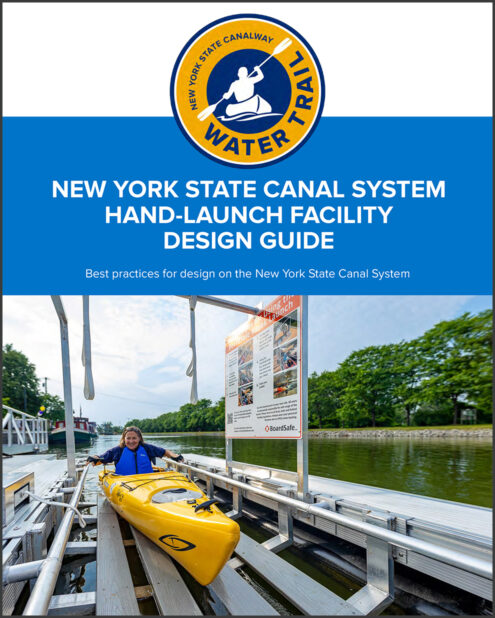 The NYS Canalway Water Trail with Universal Access offers paddlers a wealth of places to visit and sights to see. You'll navigate century-old locks, pass stunning stone aqueducts used to carry boats over rivers and streams in the 1800s; paddle alongside tugboats and cruisers; and experience narrow flatwater stretches and wider river segments. For a constructed waterway, the canal is surprisingly serene and natural. You can expect to see a diversity of birds and wildlife, unique geology, and varying terrain.
Rochester Accessible Adventures
, under the leadership of Anita O'Brien, M.A., a Certified Therapeutic Recreation Specialist, is on a mission to improve the health and wellness of people with disabilities by guiding communities to create a culture of physical accessibility, social inclusion, and equitable open access in recreation, sports and tourism. Rochester Accessible Adventures and
Erie Canal Boat Company
have led the charge for adaptive paddling.
Hot off the press!
In response to a dramatic increase in canoes, kayaks, and stand-up paddleboards on the NYS Canal System, Erie Canalway has recently published the
New York State Canal System Hand-Launch Facility Design Guide
. The free guide shares best practices for communities and organizations looking to install hand-launch facilities for paddlers on the NYS Canal System. It is a tremendous resource for inclusion and making the Erie Canalway National Heritage Corridor a world-class paddling destination! We at BoardSafe are privileged to work with Erie Canalway on this endeavor and we are honored to be featured on the cover. It is available for free download at
eriecanalway.org/watertrail
. You can view the guide here:
NYS Canal System Hand-Launch Facility Design Guide (PDF)
.