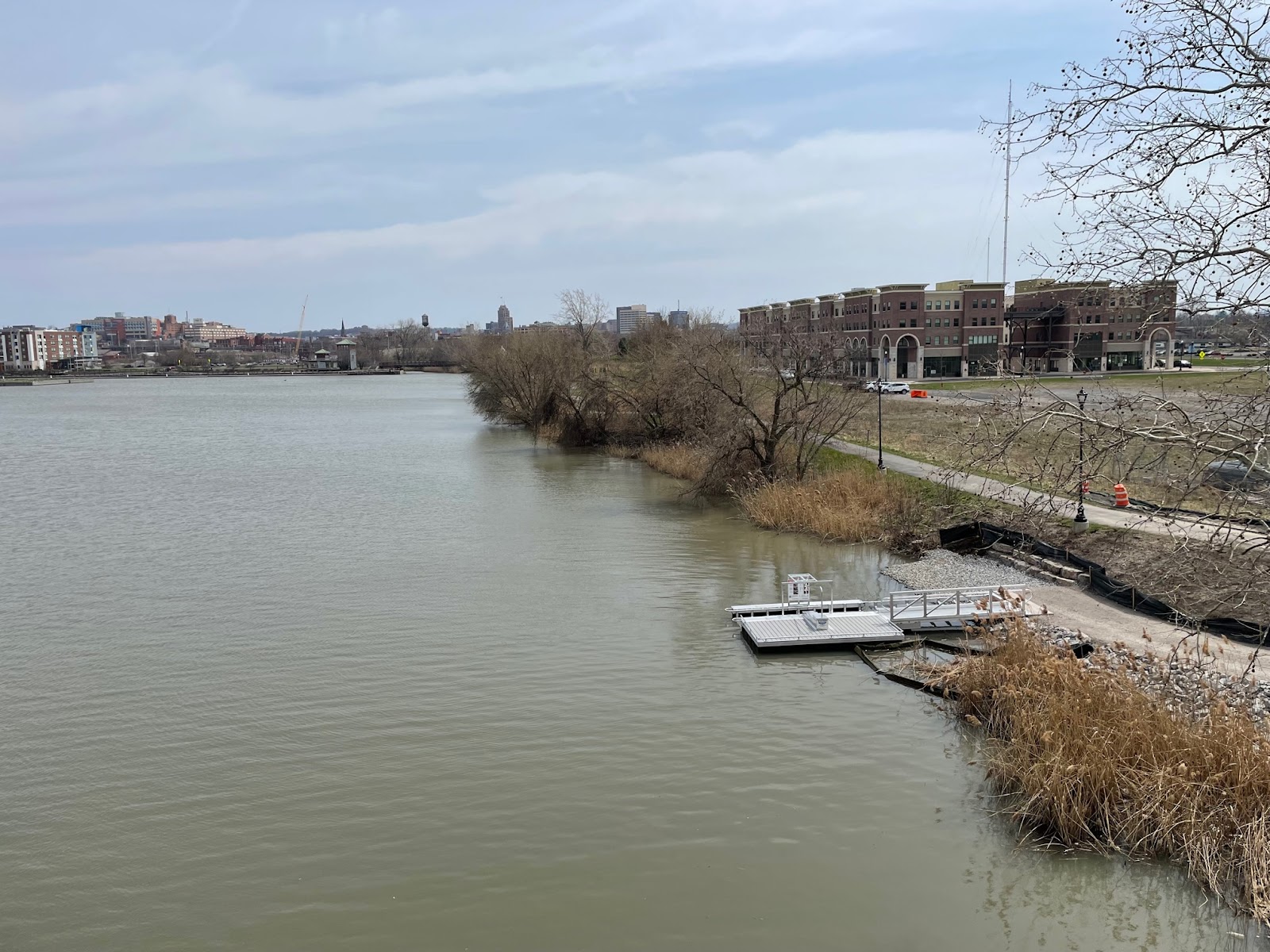 Syracuse Inner Harbor is the recipient of a newly-installed BoardSafe Adaptive Kayak Launch, bringing accessible and adaptive kayaking, canoeing, and stand-up paddle boarding to the residents and visitors of Syracuse, NY.
The BoardSafe Adaptive Kayak Launch is located at the south end of Onondaga Lake. Syracuse's Inner Harbor is an up-and-coming urban neighborhood with unique waterfront access. Paddling, biking, and hiking are just some of the draws to the water where residents and visitors can now dine, visit, stay, and play around Syracuse's growing Inner Harbor.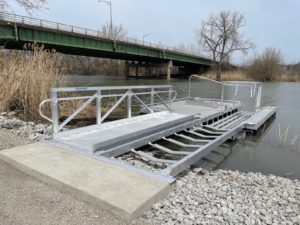 The adaptive kayak launch was installed on the creek between Syracuse Inner Harbor and Onondaga Lake. The launch is served by an 8-space accessible parking area connected via a paved walking path. The launch is directly tied to the Empire State Trail, a 750-mile-long trail that connects Buffalo to Albany and NYC to the Canadian border.
The fully-accessible floating dock project includes a 16-ft. long gangway and kayak chute connected to an 8-ft. x 16-ft. floating dock and kayak launch that provides specialized adaptive features.
Benefits of a BoardSafe Adaptive Kayak Launch
The launch boasts a strong and durable aluminum-welded frame. Aluminum is a sustainable material that can withstand harsh weather conditions and heavy use.
Aluminum is a low-maintenance product. It's non-polluting and resistant to rust and corrosion; therefore, less maintenance is required over time.
An aluminum floating dock system is relatively lightweight, making it easy to install and move if necessary.
BoardSafe kayak launches are easily customizable. Since no two waterfront projects are exactly alike, BoardSafe offers over 20 different configurations to meet the specific needs and design preferences of our customers.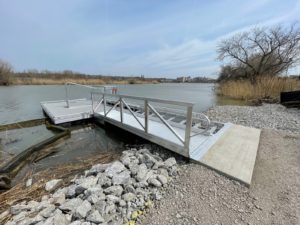 The full waterfront project was contracted by Ballard Sports out of Syracuse, NY. BoardSafe Docks of Fleetwood, PA, designed and manufactured the adaptive launch system and Tom Warchol of BoardSafe provided on-site supervision to guide the installation of the launch. Russell Houck, Facilities Engineer for the City of Syracuse, was the project manager. BoardSafe also collaborated with the Syracuse Parks & Rec to bring this accessible and inclusive water experience to the community. Through everyone's combined efforts, the city is excited to welcome both seasoned and novice paddlers to explore the beauty of the harbor. The new inclusive launch offers safe and easy access to paddle and explore the creek.
The vision for the Inner Harbor is to continue to expand the pedestrian-friendly, mixed-use community that focuses on public access to the water. The city plans to continue to expand its growth so residents and visitors can shop, dine, and recreate.
Visitors describe Syracuse's waterfront as a "great place to watch the sunset in the city or go for a run on the trail or kayak." Everyone loves the peacefulness and serenity of being by the water.
Accolades about the new BoardSafe ADA Kayak Launch
Inner Harbor's Facebook page, https://www.facebook.com/syrinnerharbor, has already received numerous accolades for the inclusive kayak launch. The adaptive features make entry into the water easier for everyone; however, the launch features are built specifically with adaptive paddlers in mind and a focus on inclusive recreation.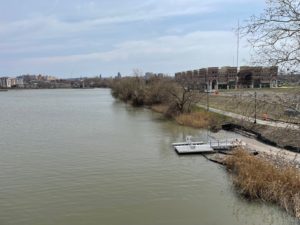 The additional adaptive features found only in a BoardSafe Kayak Launch are what sets our launch apart from other accessible launches. While other launches may offer some features, many of them lack adaptive features, or the features offered have not been developed to the extent necessary to work for adaptive paddlers.
In 2015, BoardSafe's team was approached by an adaptive paddling group and asked to design and manufacture a launch that would work to meet the varied needs of the disabled paddlers in their group. Together, they identified what features work and are necessary to ensure the launch works for those who need it the most. The end result is our feature-rich and inclusive BoardSafe Adaptive Kayak Launch.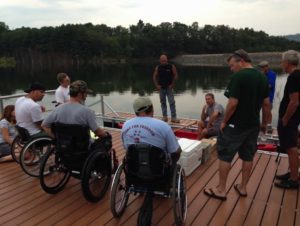 Fun facts about Syracuse
Burnet Park in the City of Syracuse is home to the first public golf course in the USA.
The 24-second shot clock used in the NBA was invented in Syracuse by the owner of the Syracuse Nationals Basketball Team.
The New York State Fair is held annually in Syracuse and is the longest-running state fair in the USA.
Syracuse Inner Harbor is the first in its city to offer a truly accessible kayak launch with adaptive features that offer safe and easy access for all paddlers looking to enjoy a day on the water. Syracuse is making inclusion happen!
Interested in learning more about paddling in Syracuse?
The Syracuse Inner Harbor Fest is scheduled for 9/20/23–10/1/23. This year's festival will include paddle races for community members, sports, and youth teams, as well as military teams. Participants can learn how to paddle a dragon boat and form a team. In addition to the races, there will be music, awards, food and drink vendors, entertainment, and a family fun zone with carnival rides. More information is available at this link: syracuseinnerharbor.ticketsauce.com.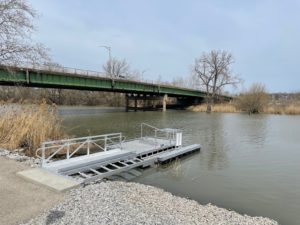 BoardSafe Docks is the trusted designer, engineer, and manufacturer of aluminum floating docks, gangways, kayak launches, pedestrian bridges, and rowing centers for nationally-ranked rowing teams. Our sales team is available to answer any questions you may have and to assist you with finding your optimal waterfront solution. Our launches can go anywhere your heart takes you paddling! To learn more about BoardSafe Docks, check out our website and contact us through BoardSafeDocks.com or by calling 610-899-0286.