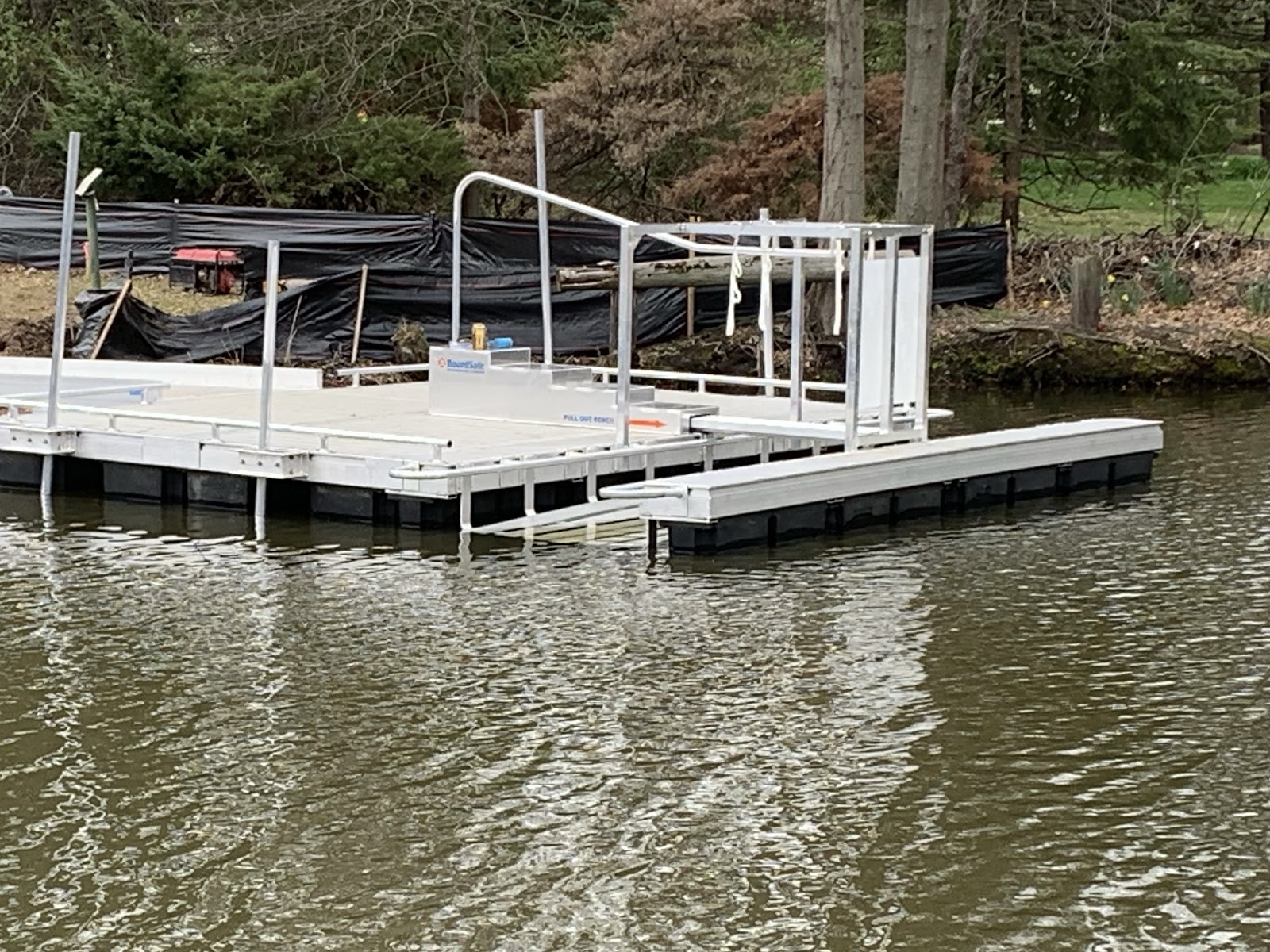 Mill Pond Park in Plainsboro, NJ, recently improved accessibility for kayakers and canoers by adding a BoardSafe Adaptive Kayak Launch to its scenic park. Mill Pond Park, located along Plainsboro Pond, is designated for non-motorized boating, fishing, hiking, and picnics.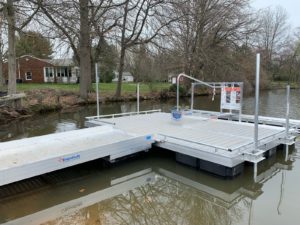 The Town of Plainsboro, NJ, worked with GPI Engineering and BoardSafe Docks for a design solution to make the pond accessible and inclusive for paddlers looking to enjoy its beauty and natural surroundings.
The project included a BoardSafe Adaptive Kayak Launch, a 10-ft.-long gangway, and two 8×10 floating docks. The cost of the project was in the $45,000 range.
Plainsboro Township is a former farming community that over the years has transitioned into a diverse community of about 23,000 people. Through intentional planning, Plainsboro Township has become a small, suburban, desirable community that focuses on balanced economic growth and open space preservation. These values provide residents with an exceptional quality of life. Plainfield Township has been recognized by New Jersey Monthly magazine as one of the top 10 "Best Places to Live" in New Jersey.
Plainsboro Township was looking for improved accessibility so visitors could paddle the pond, so it's no wonder they chose the best adaptive kayak launch on today's market.
Read more about the launch here: 6 Reasons for Designing a Universal Access Kayak Launch.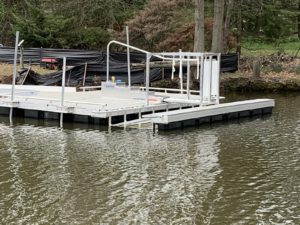 BoardSafe was able to work with the GPI design engineers on their initial concept and came up with a unique design solution that would allow them to place the launch in their desired area in the pond.
The adaptive launch system includes a concrete bulkhead and an aluminum bulkhead mounting angle that connects the aluminum floating dock system to the shoreline. There are two hinge pins inserted through the aluminum mounting angle that connect the bulkhead to the gangway and chute, which are shown in the picture below. This connection adds structural integrity and durability to the aluminum-welded launch.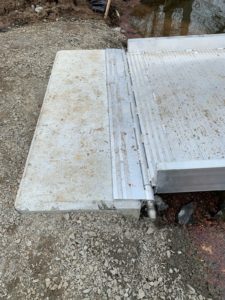 Since no two waterfront projects are exactly alike, BoardSafe Docks works with its customers to design optimum solutions for each launch site. To view over 20 different possible launch configurations, click here: BoardSafe Kayak Launch Layout Options.
BoardSafe Docks is a premier manufacturer of aluminum floating docks, aluminum pedestrian bridges, aluminum gangways, aluminum piers, rowing docks, accessible kayak launches with adaptive features, and other marine products.
Contact BoardSafe Docks today at 610-899-0286 to learn more about the most durable and accessible aluminum floating launch options for your location. The team will help you find the ideal solution to meet your needs.
An accessible and inclusive kayak launch helps paddlers enjoy the lifestyle they're looking for—safely, easily, and responsibly. Plus, an aluminum dock is easy to install and will look amazing for many years to come. BoardSafe Docks will get you out on the water without delay to enjoy kayaking and the surrounding nature. 'Tis the season for paddling!