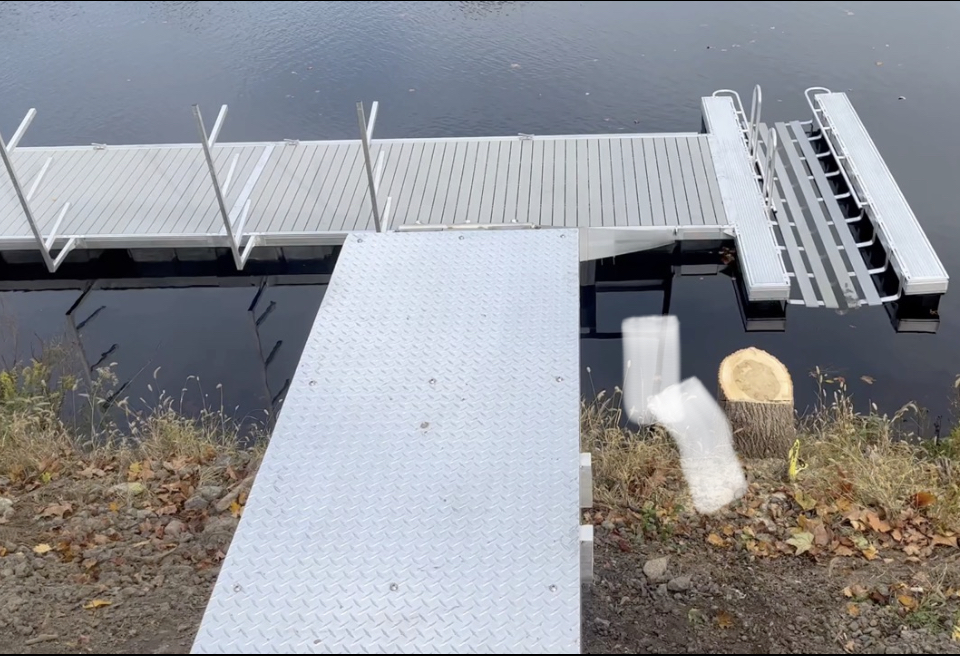 In October 2022, BoardSafe Docks completed the installation of a custom gangway, floating dock system, kayak launch, and storage racks on the Lehigh River in Allentown, PA. The Allentown Waterfront Project, developed by Jaindl Enterprises, is part of a redevelopment effort to revitalize an unused twenty-nine-acre industrial site, formerly home to Lehigh Structural Steel, into a vibrant mixed-use campus along the western banks of the Lehigh River.
The complex will revitalize the site's industrial history and blend it with a beautiful new waterfront community. The design includes a mix of commercial and residential properties that will host restaurants, retail stores, and recreational amenities, and will offer convenient lifestyle and growth opportunities to the local economy.
Work hard, play easy
Lifestyle communities hold corporate allure by offering a desirable location between suburban and city work-life. Walkable communities are attractive to both residents and businesses because of their accessible amenities and work-life balance.
Recreational amenities, like parks, trail systems, and water access for kayaking, available at Allentown's Waterfront, will help build the community the Jaindls envision. Waterfront communities bring like-minded people together by fostering shared interests and connecting people to nature. With the Lehigh River in their backyard, it's a place where people can go after work or on weekends to take advantage of the close-to-home recreation and activities.
Building and investing in our natural resources brings communities together and builds friendships,—particularly among communities that have not been connected in the past.
The custom waterfront project developed by Jaindl Enterprises had a vision that included providing water access to paddlers wishing to paddle the Lehigh River. The shoreline approaching the Lehigh River is very steep and was inaccessible when the planning for the project began. BoardSafe Docks of Fleetwood, PA, was hired to design and manufacture a floating dock system and kayak launch that would open up accessibility to the beautiful riverfront for the new tenants.
A BoardSafe Kayak Launch provides safe and easy access and cannot be found anywhere else on the Lehigh River, making it an attractive feature for those living and working by the river.
Waterfront Project features
BoardSafe's custom project along the Lehigh River includes a commercial floating aluminum dock, gangway, Clip-a-Launch, and kayak storage racks.
Watch the project video here: Allentown Waterfront Floating Dock and Kayak Boat Launch on the Lehigh River
Due to the steep slope of the shoreline and possible flooding and drought conditions along the river, a concrete foundation was formed to secure the floating dock system to land. Heavy-duty engineered support arms were used to secure the dock system to the land. The massive arms provide structure and durability to the dock, allowing it to rise and lower with changing river levels while maintaining a fixed distance to the shoreline. BoardSafe Docks also manufactured an 80-ft.-long industrial gangway to connect to the floating dock. On the river are (4) floating dock sections, each 20 ft. in length, forming a large 8 ft.-wide by 80 ft.-long floating dock. The structure provides a stable system that will be flood-resistant for decades to come.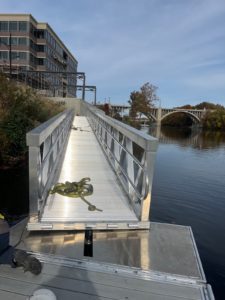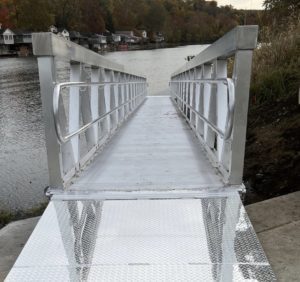 Features of the floating dock include a BoardSafe Kayak Clip-a-Launch to allow for easy boarding and exiting, kayak racks that store 3 kayaks per racking system, a protective dock bumper system, and adjustable cleats to tie up to the perimeter of the dock.
What's unique about the floating dock structure is the two support arms that allow the system to go up and down as the river fluctuates. The arms will provide stability to keep the floating dock system in place during flooding and drought conditions.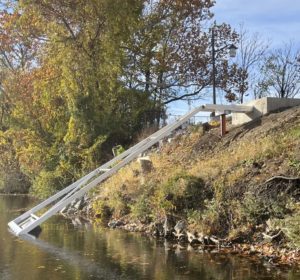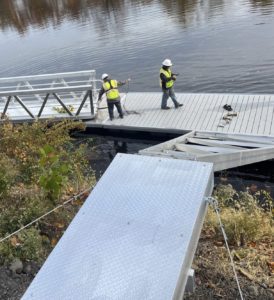 About the Lehigh Valley
The Lehigh Valley is located near the Pennsylvania-New Jersey border and is home to more than 600,000 residents. The area boasts over $40 billion of economic output each year. In 2015, the valley was recognized in the top five regions for development in the Northeast by SiteSelection magazine.
The region named for the Lehigh River connects the area's three largest cities: Allentown, Bethlehem, and Easton. Along the river near the Allentown-Bethlehem border is The Allentown Waterfront, the new lifestyle destination for living and working, offering restaurants, retail stores, and recreation options, all in one place. Amenities include a riverwalk, outdoor amphitheater, plentiful parking, views of the water, and the ability to safely and easily launch a kayak.
Jaindl Enterprises believes The Waterfront is part of the next beautiful chapter for the city of Allentown. It's taken about 10 years for developers to convert Allentown's long-deteriorating riverfront into a complex of office and residential buildings. Buildings in the new community are named after William H. Mohr, Les Kift, and Thomas R. Mullen, original founders of the Lehigh Structural Steel site where they fabricated everything from bridges to hangars to highrises.
Allentown's convenient location
The Allentown Waterfront's convenient location boasts:
12 universities in a 20-mile area.

2 top-tier health systems: LVHN and St. Luke's.

15,000 businesses in the ABE area.

90 minutes from NY.

60 minutes from Philadelphia.
Living on the water is desirable.
It's easy to understand the draw that pulls people to the water. When you step into a kayak, push off into a canal or river, and take those first few paddle strokes, nature surrounds you.
Paddling and kayak fishing have become everyone's favorite hobbies and sought-after forms of outdoor recreation. They bring families and friends together, connect people to nature, and most importantly, promote exercise, good health, and wellness. They have become activities that almost everyone can enjoy. Paddling encourages good stewardship of our parks, natural resources, and riverside land. Enjoyment and protection of the great outdoors are valuable investments in our communities, now and into the future.
The popularity of paddlesports like kayaking is on the rise.
According to a report published by the Statista Research Department, nearly 18.6 million U.S. Americans went kayaking at least once in 2021, demonstrating an increase in the popularity of paddlesports. During the 2010–2021 season, kayaking participation in the United States grew by 87.3 percent. Paddlesports like kayaking draw people to the water and together along the waterfront.
Here's a short video of the Kayak Launch at Allentown's Waterfront: Lehigh River Aluminum Floating Docks and Kayak Launch in Allentown
BoardSafe Docks has four other launches in the ABE area that are adaptive and inclusive for paddlers of all abilities. You will find them at Leaser Lake in Kempton, Beltzville Lake at Preacher's Camp, Lake Nockamixon in Quakertown, and Lake Minsi in Northampton County. We invite all paddlers to try them out. We promise you will be impressed with how easy it is to get in and out of your vessel. BoardSafe Docks is proud to contribute to making paddling an activity that almost everyone can participate in. We are especially honored to offer our kayak launch to our local community.
BoardSafe Docks is the industry leader in adaptive kayak launches and fishing piers, gangways, pedestrian bridges, collegiate rowing centers, and marinas. We specialize in design consultation, engineering, and manufacturing, and will work with you to ensure your project is accessible. To discuss your project's vision and learn more about BoardSafe Docks, our water access products, and the long-term value they bring to communities, please contact us through the website at BoardSafeDocks.com or call us at 610-899-0286.