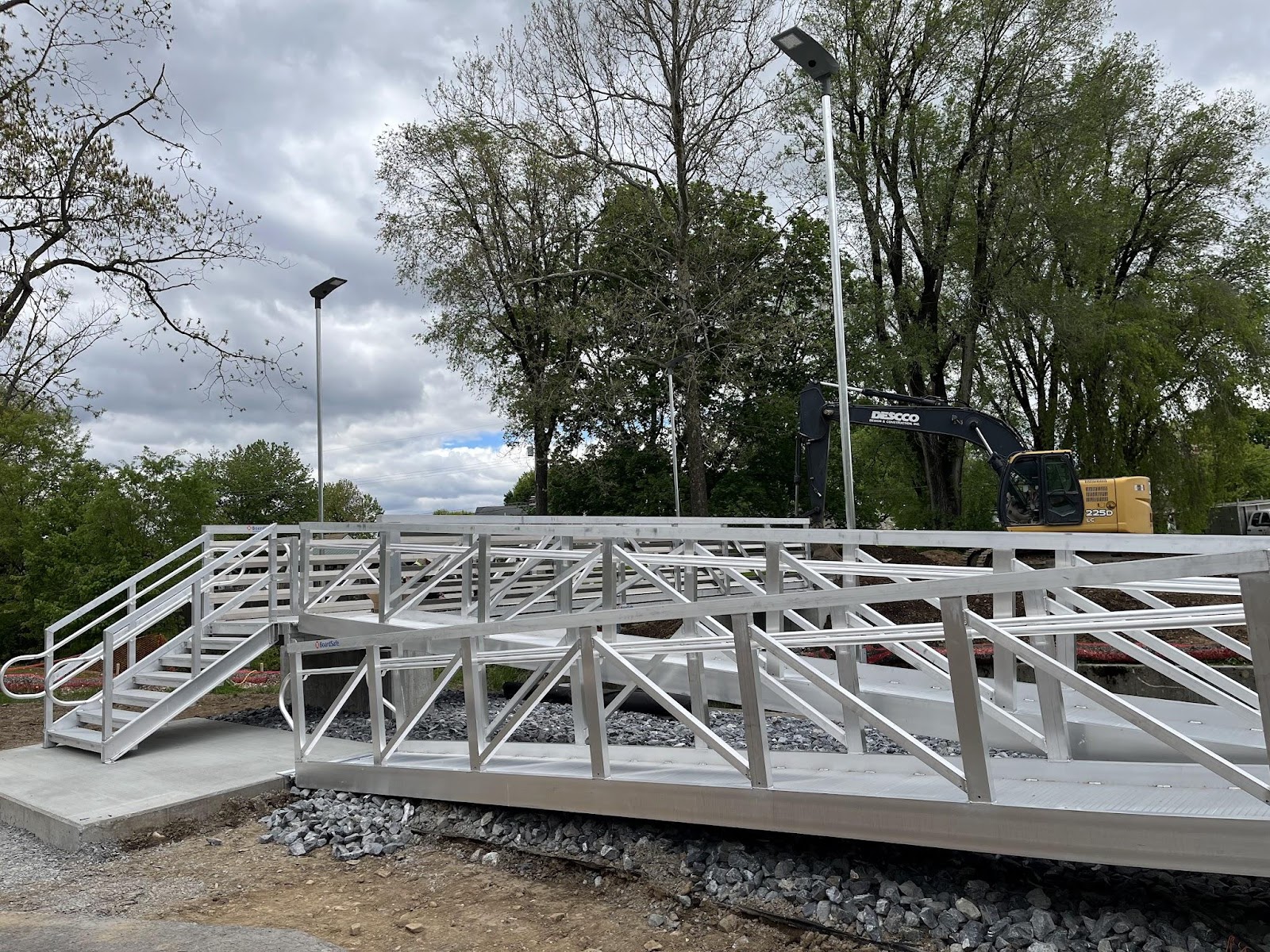 Fleetwood Borough Park, located at 334 W. Main St., Fleetwood, PA, is the recipient of a recently installed BoardSafe pedestrian bridge. In 2020, the original bridge was swept away by a flooding storm that hit the area. The storm destroyed the park's wooden pedestrian bridge, and flooding washed out the park. The park's bandshell, already suffering from decay, was condemned when the creek caused additional damage from the storm.
"Borough Council was committed to replacing both the bridge and bandshell as they recognized how important these structures were to the Fleetwood residents and the activities that take place at the park," said Borough Manager Chris Young. The old bridge provided walking access to the park from the residential neighborhood behind the park, and the new bridge restored the access that was lost.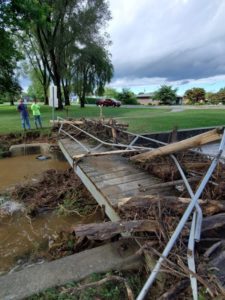 Fleetwood Borough sought out and received generous grants from DCED (Department of Community and Economic Development) and DCNR (Department of Conservation and Natural Resources) to help fund the greatly needed project. Through the grant application process, they were able to receive $380,000 to subsidize the cost of the new bridge over the creek, repair the creek, address flood damage, and install a new bandshell.
Borough Council recognized how important these amenities are to its residents; therefore, they committed to repairing and maintaining the creek and the surrounding greenspace located in the heart and hub of their community. The park offers picnic facilities, a walking path with exercise stations, playground facilities, a bandshell, and a concession stand for concerts and other events. The pedestrian bridge was key to residents' accessibility throughout the park and connects the park to the parking lot and nearby community.
An installation video of the long-awaited pedestrian bridge at Fleetwood Borough Park can be viewed here:
 Fleetwood Park Pedestrian Bridge Installation
Watch a recent video of the completed installation here:
Completed Fleetwood Park Pedestrian Bridge
Ribbon-cutting ceremony recognized project contributors
A ribbon-cutting ceremony took place on Sunday, June 4, before Parks and Recreation's first Sunday night Concert in the Park.
Those in attendance included Judy Schwank, PA State Senator, other state officials, Fleetwood borough leaders, and representatives from contracting companies involved in the project. Those involved in the improvement project received recognition for their efforts at the well-attended ceremony.
"The public opinion regarding improvements at the park is positive, especially for the new bridge. The bandshell had a temporary tent for the last two years that allowed for concerts to continue, and the community was happy to see a permanent structure back in place. The new pedestrian bridge is ADA-compliant, offers wheelchair accessibility, and has solar lighting which the old bridge didn't provide," said Young.
Local contractors complete the work and offer community pride
The new pedestrian bridge, designed and manufactured by Board Safe Docks, also of Fleetwood, was purchased through Pennsylvania's cooperative purchasing program called COSTARS (Cooperative Sourcing to Achieve Reductions in Spending.) The COSTARS program leverages buying power with competitively priced contracts and an effective procurement process.
The bridge preparation work, foundations, bandshell stage, and construction contract was awarded through a competitive bid process to DESCCO Design & Construction, Inc., of Fleetwood. Flyway Excavating of Mount Joy completed the site work on the creek.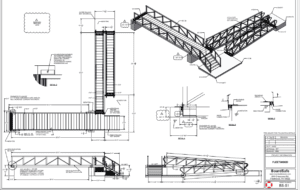 "Working with BoardSafe on the design, manufacturing, and installation exceeded my expectations," offered Chris Young, Fleetwood's Borough Manager. Young complimented BoardSafe's team for their excellent customer service, outstanding design, responsiveness to questions, and willingness to meet the borough's needs every step of the way.
BoardSafe's owner, Scott Tihansky, said, "We're honored to improve accessibility for the borough where our manufacturing plant is located. Our dedicated team always receives compliments for their hard work and excellent customer service. A few members of our team grew up in the Topton-Fleetwood area, attended school or reside nearby, and feel honored to have their skills displayed at Fleetwood Park. Our team takes a lot of pride and ownership in creating a positive user experience."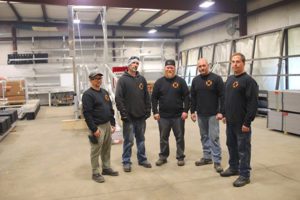 Fleetwood prepares for sesquicentennial: celebrating 150 years
The pedestrian bridge and park improvements were completed in time to celebrate the Borough of Fleetwood as it kicks off its 150th anniversary celebration. Numerous year-long celebratory events are planned to commemorate the borough. Fleetwood's Council of Community Organizations (FCCO), a group composed of representatives from non-profit organizations, announced them here: 150th Anniversary – Borough of Fleetwood, PA. Events will include the Fleetwood Carnival, car shows, concerts and movies in the park, fireworks and parades, a time capsule presentation, and numerous holiday events.
Fleetwood's history has deep roots
Fleetwood Historical Society goes a long way to preserve Fleetwood's history. The society has a mission to "Preserve the Past for the Future." The museum is a walk back in time to reminisce and a source to learn about historical contributions from the Fleetwood area. Fleetwood's history is impressive and the artifacts are plentiful. Visitors may learn more about Fleetwood's history at these informative sites: Fleetwood Timeline and About Fleetwood — Borough of Fleetwood, Pennsylvania. Or better yet, visit their museum at 110 W. Arch St.
BoardSafe's pedestrian bridge project profile
The pedestrian bridge project consisted of a 35-ft long x 6.8-ft wide elevated aluminum pedestrian walkway, a 30-ft. gangway, and a 24-ft. gangway with a landing and stairs. The new ADA-compliant gangway provides opportunities for people in wheelchairs to attend park functions without struggling through the barriers that existed in the past. The pedestrian bridge will provide inclusive access to the park for many years to come.
Here are some installation pictures to understand the project's scope and complexity; offering elevation above the stream and ADA accessibility.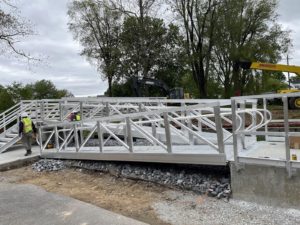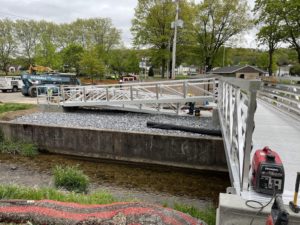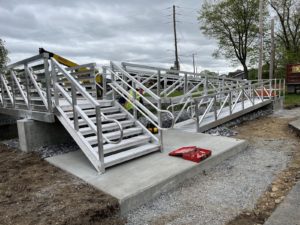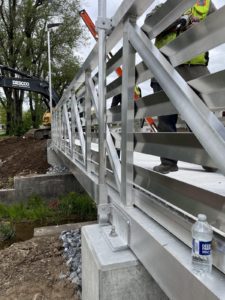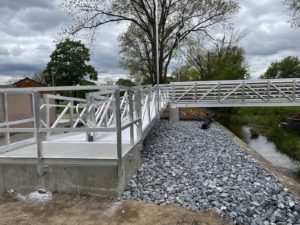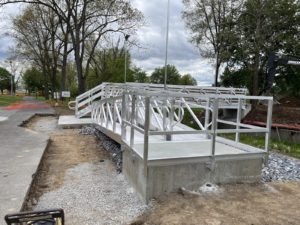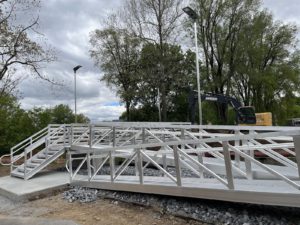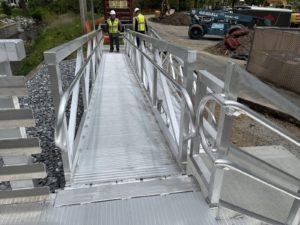 Click on the links below for additional information on BoardSafe's pedestrian bridges:
Aluminum Pedestrian Bridges and Gangways
BoardSafe's Pedestrian Bridges Build Connections
Inclusive parks demonstrate community
As parks, marinas, and outdoor facilities look to improve accessibility for disabled community members, BoardSafe Docks has become nationally recognized for offering accessible solutions and adaptive features for all people looking to enjoy activities in parks and on the water. BoardSafe is the industry leader for commercial and municipal waterfront products. We specialize in design, engineering, and manufacturing of aluminum-welded docks, marinas, rowing centers, adaptive kayak launches, gangways, stationary and floating fishing piers, pedestrian bridges, and other accessible products throughout the USA.
BoardSafe's marine-grade aluminum pedestrian bridge, like the one built for the Borough of Fleetwood, can be manufactured to custom specifications in length, width, and design. BoardSafe's experienced team can solve customer challenges quickly and cost-effectively.
Contact BoardSafe Docks today at 610-899-0286 to learn more about the most durable and accessible aluminum-welded options for your location. The team will help you find an ideal solution around your waterfront.