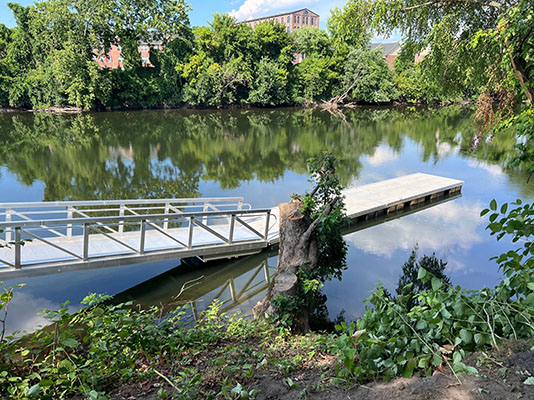 BoardSafe Docks was contracted to come up with a design for a new floating dock system on the Schuylkill River across from Pottstown, PA, in North Coventry Township. The site included an existing boat ramp and signs of a previous dock system that was washed away in a flood years ago.
The customer asked if we could design a new dock system that would hold up during flooding conditions. It had to be ADA-compliant and not project too far into the river.
Our solution was to install a foundation that supported a cantilevered deck that projected out over the river. A concrete foundation was excavated, and forms were installed, then poured. The cantilevered steel deck was then bolted to the foundation and decking was installed. The gangway was then connected to the side of the deck running parallel to the river bank. Supplemental flotation was placed at the bottom of the gangway to provide adequate buoyancy for its weight and to maintain a freeboard of 16 inches, the same as the floating dock. The gangway was connected to the floating dock via a piano hinge. The use of the hinge means there is no step from the gangway to the dock, allowing the dock system to move up and down as the water levels fluctuate. The floating dock was made of two 8' x 20' dock sections connected together with a piano hinge. A rubber dock bumper and adjustable cleats were installed on the docks.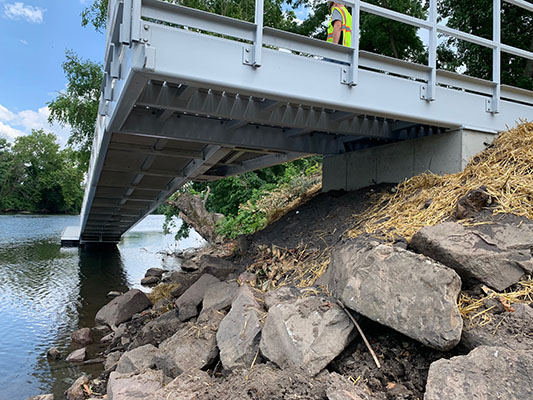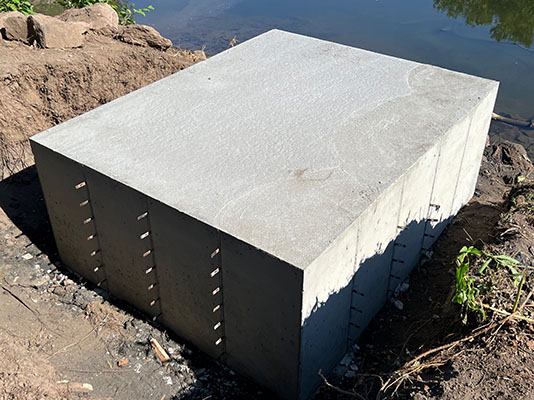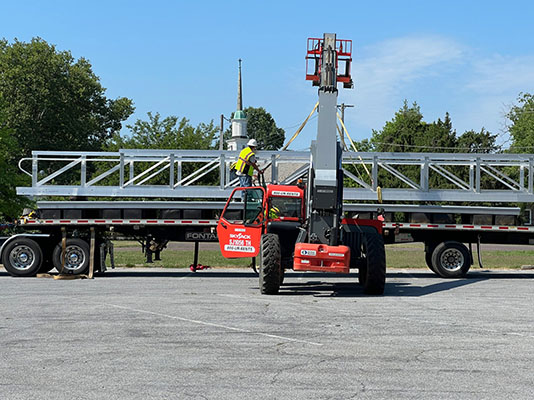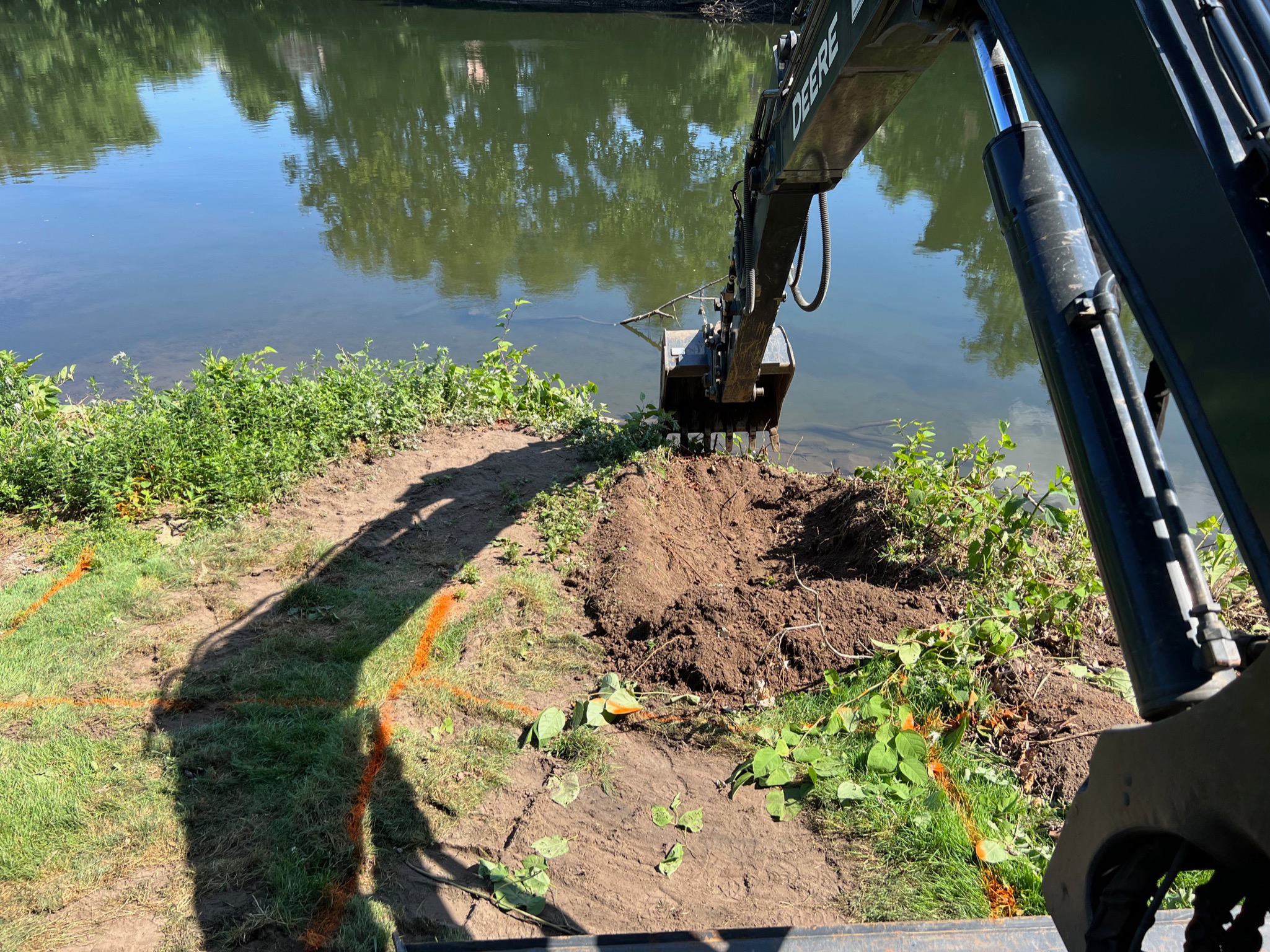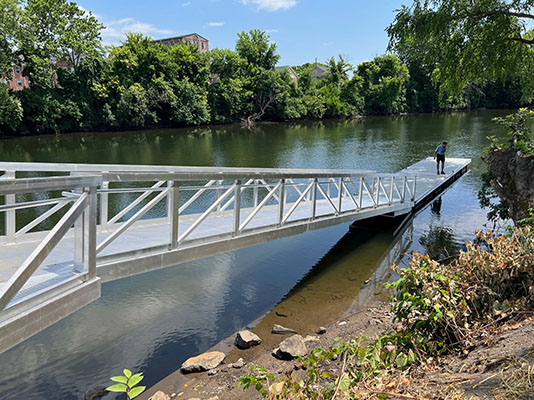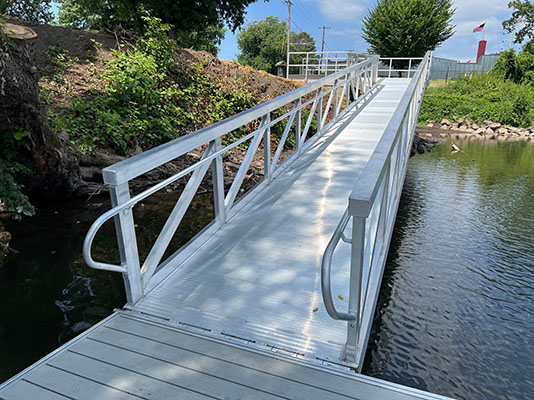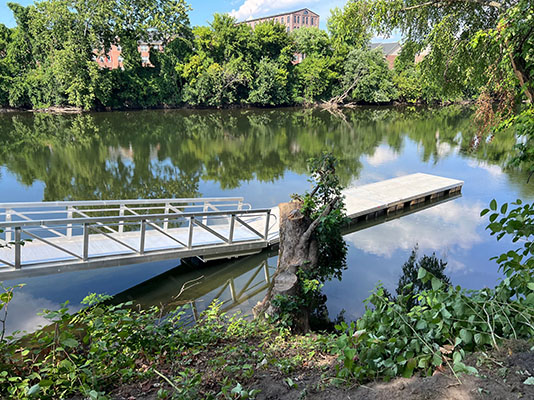 Devonshire concrete block
Devonshire delivering the goods
Dimensions
Foundation 8' x 10' x 4' with rebar cage and drive steel pilings
Cantilevered deck 8' x 20' steel construction, steel railing, and composite decking
Gangway 5' x 54' with an expanded section at the top
Floating dock 8' x 40', manufactured in two sections
The project was completed on July 14, 2022.