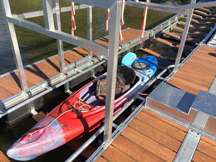 The radiant sun presided over the springtime rejuvenation and the songbirds cheered the eager kayakers as they slipped into their boats. It was harmonious: camaraderie on the Erie Canal and oneness with nature — at least for all but one paddler in the group.
Of the kayakers, Ken Ryno was the only adaptive paddler. A dirt bike accident at the age of 18 shattered his lower vertebrae, as well as his ability to enjoy the outdoors — or at least he thought. Medically classified as a C5-C6 Incomplete Quadriplegic, Ken pieced his life back together into a beautiful mosaic of perseverance and grit, living life to his fullest potential.
Ken is paralyzed from the chest down, but maintains the use of his upper body and arm strength. After hundreds of hours of rehab, in addition to dedication in the gym, Ken is an avid fisherman, wheelchair basketball player, and hunter. Ken is an inspiration to all who know him, but unfortunately, what most restricts him is not his own physical limitations, but rather a lack of accommodations available to him. In many cases, simple adjustments — like an additional handle on a product or increased open space around another — are the difference between participation and exclusion.
So, this is how he found himself on a spring day in Upstate New York: frustrated, embarrassed, and lamenting the lack of a few additional adaptive features — ironically, on the accessible kayak launch that stood between him and his favorite hobby.
In his love for kayaking, Ken is not alone. The nonprofit Outdoor Foundation tracks participation levels for outdoor activities and reported that paddlesports like kayaking, canoeing, and stand-up paddleboarding, have propelled forward over the past decade.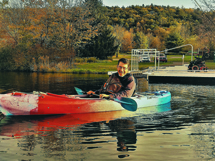 Not surprisingly, the COVID pandemic drove many people outside, seeking to distance themselves from others and commune with nature. This has allowed Americans to re-discover the great outdoors, the benefits of physical and mental health, and also feel the joy provided by reconnecting with nature.
While this is common knowledge, not all segments of society pursue paddlesports for a multitude of reasons. In an attempt to lower the barriers of participation, many organizations, like the American Canoe Association and ASLA (American Society of Landscape Architects), have created committees devoted to Diversity, Equity, and Inclusion. It is no wonder that many adaptive paddlers like Ken describe the freedom of leaving their wheelchair and transitioning into a kayak as "liberating."
Specifically for those with disabilities, paddlesports offer a unique experience to holistically enrich individual lives in ways that other activities cannot. "For many, paddling is a new sport and frontier for people to enjoy, to encourage one another, and have fun," says Joe Morini, president of Team River Runner (TRR), a national nonprofit whose purpose is to "provide all veterans and their families an opportunity to find health, healing, community purpose, and new challenges through adventure and adaptive paddle sports." Since its inception in 2004, TRR's growth to 75 chapters and tens of thousands of paddlers is evidence of paddling's appeal.
Clinicians have also been drawn to paddling. Occupational Therapist Alice Krauss, Manager of the Adaptive Sports and Recreation of Brooks Rehabilitation in Jacksonville, a health network of 50 outpatient rehabilitation centers and a 160-bed inpatient rehabilitation unit, recognized a gap in the health care system. She wanted to create meaningful activities that promote better health, integrating mind, body, and spirit. She observed that insurers allowed patients less time in rehab services and that discharged patients were ill-prepared to maintain their gains. Patients found themselves socially isolated and with declining activity levels.
"We looked into sports and recreation programming to attract patients to activities, build social connections, and provide a sustainable community to empower participants." Brooks's Adaptive Sports Program was born in 2007, and the program has continued to grow over the last 15 years with the adaptive paddling sessions "selling out" each month.
"What I most love about kayaking is that when we are out on the water, we are all on the same level, looking eye-to-eye. I don't need to look up at my friends, nor do they look down on me," says Ken, speaking in both literal and figurative terms. While there has been a steady increase in ADA accessibility at public parks and ​​recreational facilities, the number of ADA access points needs to be increased.
Equally and arguably more important than the quantity of access points — and the central thesis of this article — is the quality of each installation. "Many times, even if a location is deemed 'handicapped accessible,' many who live with physical disabilities like myself still cannot use it," explained Ken, in reference to a variety of public spaces from restaurants and hotels to retail stores.
Ironically, most accessible products and applications designed for those with handicaps are created by able-bodied people. Despite these good intentions, if gaps in equity, inclusion, and diversity are to be bridged, then the best solutions should come from those who experience the challenges.
Although mistakenly used interchangeably, the terms "accessible" and "adaptive" are distinct and need to be properly understood. In the traditional sense, "accessible" denotes something that is easy to get to, where barriers such as steps have been removed. It can also include features stipulated by ADA guidelines, like a 1:12 gentle pitch, specific height handrails, and alternative handrails.
Accessible launches are great for able-bodied kayakers, beginners, children, seniors, and people with minor limitations like joint issues, arthritis, and developmental delays. An accessible launch may even work for a small number of paddlers with moderate disabilities. However, for adaptive paddlers like Ken, members of Team River Runner chapters, and disabled veteran and wounded warrior groups, an accessible launch alone does not meet their full range of needs, and will not get them into the water safely or easily.
An "adaptive" launch, in turn, is an enhanced accessible launch. Adaptive kayak launches are engineered and designed with features to accommodate paddlers of all abilities, whom Ken Ryno would characterize as "differently-abled" paddlers. The adaptive kayak launch designed by BoardSafe Docks was created based on the input of Ken and several of his paddling peers.
Lead designer of the adaptive kayak launch was BoardSafe president Scott Tihansky, who was astonished by the group's feedback. "As able-bodied people, we overlook numerous and seemingly trivial aspects of getting in and out of a boat and fail to understand how they may pose challenges to adaptive paddlers. Hearing the group's feedback was eye-opening, and we are able to solve the issues with design changes."
Based on the group's feedback, an adaptive kayak launch that will serve the widest range of paddlers should include the following features:
In order to access the adaptive launch, an egress that allows for wheelchair travel must exist from the parking lot to the kayak launch site.
The gangway must offer an adaptive paddler a way of moving the kayak from the land to the launch area and vice versa. The gangway should have a maximum pitch of 1/12 (meeting ADA slope requirements and features) and a parallel boat chute where the vessel is placed in alignment with the kayak launch.
The chute and launch area should be large enough to accommodate kayaks with outriggers. However, it shouldn't be too wide or it will create too great a distance between the boarding bench and the cockpit of the vessel. If a launch is too wide, it will decrease the stability needed for a disabled paddler to get into their vessel.
Ample space on a floating dock. As the paddler rolls up to the bench to begin the transition from the chair into the cockpit, sufficient space is required to maneuver the wheelchair, especially if there are more than one adaptive paddler leaving their chairs on the deck. The floating dock should also have a toe kick around the perimeter as an added safety feature. This prohibits a wheelchair from accidentally rolling off the dock into the water.
A tiered bench to allow the user to easily transfer from the wheelchair. The top step of the bench must be equal to the height of a wheelchair in order for the user to transition from their wheelchair over to the bench. The steps should be minimal in height (approx. 3") to allow the paddler a small shift from step to lower step.
The bench must be equipped with a pull-out seat that slides out over the kayak and directly above the vessel's cockpit. This allows the adaptive paddler to slide down into the vessel with a limited drop and shimmy himself or herself into their kayak.
The roll cage must provide support for an overhead grab bar as well as optional hand straps. Adaptive paddlers have varied upper-body strength and varied preferences as they enter and exit their vessel. Some paddlers prefer the grab bar while others prefer the hand straps. There should be no obstructions on either side of the step-down bench, allowing the paddler to choose the side they prefer and are most comfortable using to navigate down the bench.
The pull bars on either side of the launch must be at the right elevation and distance from the paddler, making it comfortable and easy for a disabled paddler to pull himself or herself down the chute and into the water.
Stabilization saddles and launch area. Too often, the launch area is sloped and includes rollers. When a kayak, canoe, or SUP, is placed into the launch, gravity will dictate the action of the vessel. If a kayak is not level in the chute, it will roll into the water and will not remain securely in place for the disabled paddler to board or disembark from. Remember, the design needs to accommodate the return of paddlers as well, and rollers can actually make this condition worse because they prevent the vessel from sitting securely and remaining in place. The width of the launch area is also a factor, if it is too wide it makes it more difficult for a paddler to make their way from the step-down bench in order to transfer into their vessel.
Often, kayak launches are touted as "ADA launches" or "ADA compliant," but current ADA guidelines do not apply to marina applications like kayak launches. What is correct is that kayak launches have design features that are borrowed from ADA guidelines as they apply in terrestrial applications. This makes the launches friendlier to use, but it reveals a lack of standardization, opening the door for the subjective interpretation of a kayak launch to be adaptive or accessible.
Regardless, it is agreed that adaptive paddlers should be given every opportunity, and feature to safely and easily enjoy paddlesports. "We've seen what has been touted as an 'ADA accessible' dock and it is the furthest thing from it -- what a joke," says Kimery Duda, Founder and Director of The Expedition School in Austin, TX.
The Expedition School seeks to give students and adults outdoor experiences that transform their lives. Currently, Kimery is designing a world-class adaptive dock and launch system for their location. Her approach and advice to others seeking to build accommodating facilities is, "It is vital to consult with all disabled communities, including amputees, wheelchair users, the blind, those with cognitive impairments, quadriplegics — all those in the disability community and their families because all have different challenges and needs to address."
So, how did Ken end up paddling with his group on that particular day? Because the accessible launch lacked four of the above-identified features, he found it easier to bypass the bench and chute and crawl from his wheelchair across the dock and into his kayak with the assistance of two people. (It should be noted that Ken typically can get from his van and into the water in less than 10 minutes, by himself, at the adaptive kayak launch close to his home.)
Fortunately, Ken's passion for paddling was stronger than the humiliation he felt. Additionally, he was there to participate in an adaptive paddling workshop for local, state, and federal officials, in addition to other champions for adaptive paddling. Ken's humiliation paled in comparison to the embarrassment felt by the committee who selected that accessible launch to elevate adaptive paddlers — but in fact witnessed the unintentional degradation of a paddler.
While it is encouraging to see so many leaders across many industries in the private and public sectors strive to create a more inclusive society, it is paramount that the adaptive products selected and employed benefit the greatest number of users possible. Landscape architects play an important and responsible role in shaping the future of the country's outdoor spaces, inclusive lifestyles, and quality of life, in order to improve the greatest number of lives possible — and not just check off an "ADA Accessible" box.
Continue here to read more about BoardSafe's exclusive adaptive products.