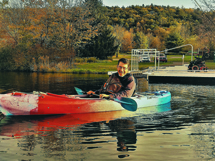 There are some people we can never forget, regardless of how long it's been since we've seen them.
Due to ill health, BoardSafe spokesman and accessible sports advocate Ken Ryno has been away from the water for about 18 months. On September 13, 2021, Ken not only returned to kayaking — he had the privilege of cutting the ribbon at the dedication of a BoardSafe ADA-accessible kayak launch at Lake Minsi in Northampton County, PA.
The ribbon-cutting dedication motivated Ken to ramp up his therapy and other means to get back into the water. This is a milestone for both Ken and Lake Minsi. "A dock that was just recently installed that provides adaptive features for people that are disabled to be able to get from their wheelchair into a kayak and back out again," said Scott Tihansky, with Boardsafe Docks.
Here is a video of Ken's excursion on the waters of Lake Minsi: