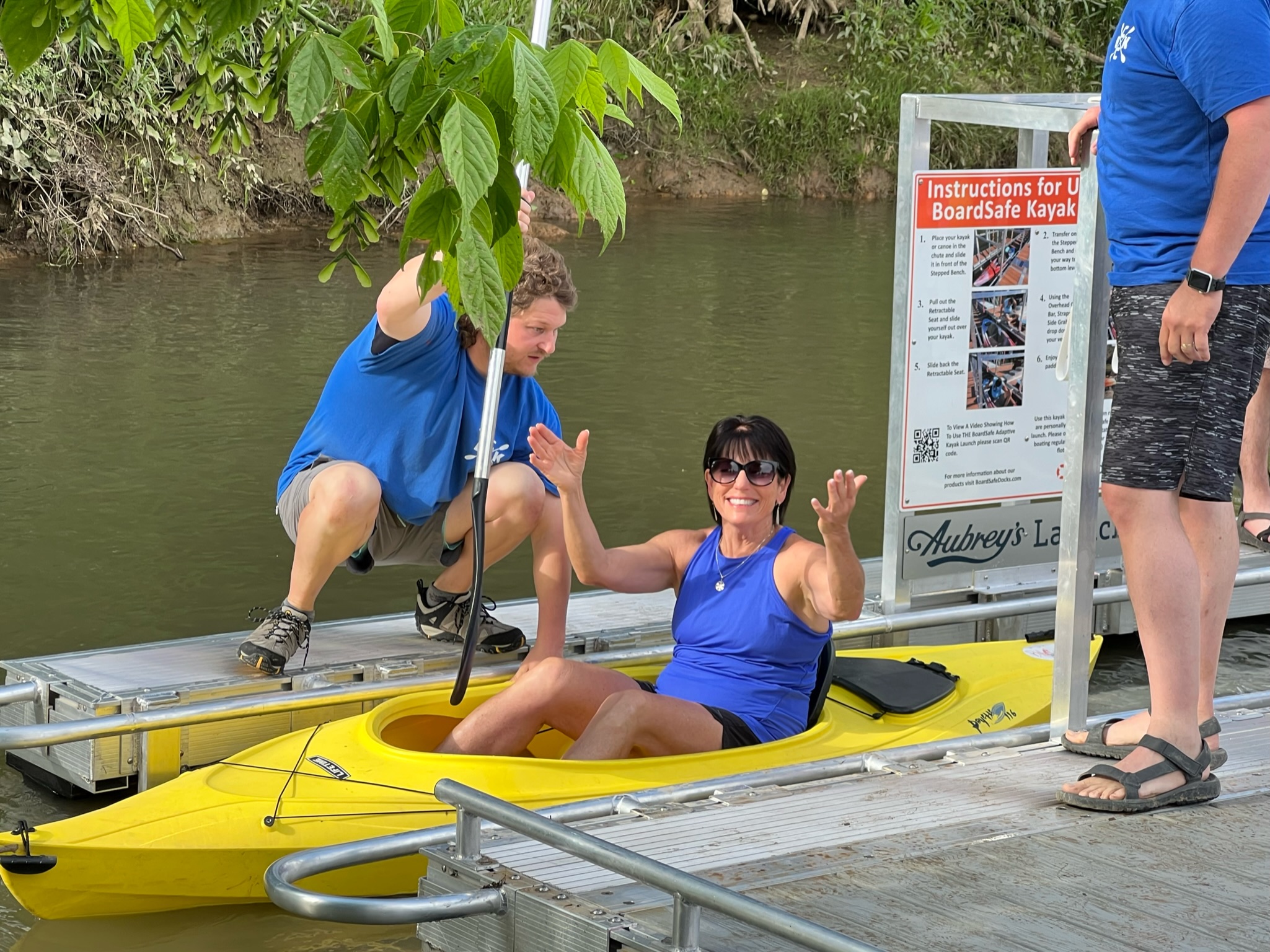 What an amazing day of paddling the Beaver Creek Kayak Club created for their local community on Saturday, May 14, 2022, at their 5th annual Flotilla sponsored by First Bank. A passionate group of kayakers and a very long list of community stakeholders and volunteers also accomplished something for their community far beyond their successful Flotilla.
Charlie Austin, president of the Beaver Creek Kayak Club, played a substantial role in building the club to almost 3200 members who support the club's efforts.
At the kickoff to the day's events, Charlie Austin exuded enthusiasm and graciousness for the overwhelming community support they received. He asked for a show of hands to gauge how many paddlers were local to the Powell and Karns communities, where two BoardSafe Adaptive Kayak Launches have been installed. The inclusive launches are located in Powell behind the high school and in Karns at the Roy Arthur Stormwater Park. The accessible launches are 6 miles apart on the picturesque Beaver Creek. Paddlers completed the 6-mile paddle in about 3.5 hours and enjoyed some beautiful nature and sites along the way.
.
Charlie asked the attendees to raise their hands if they were from outside the Powell and Karns communities. Almost half of the attendees put their hands in the air. With such an enormous turnout to the flotilla, it was evident the paddlers want what Charlie has created for his devoted community: close-to-home recreation; safe, easy, and inclusive access to the water; the ability to paddle the picturesque Beaver Creek; and a desire to connect with their community.
The installation of two BoardSafe Adaptive Kayak Launches has provided all that and a fun day of paddling that included everyone. "If you build it, they will come," is a common theme where BoardSafe launches are installed. BoardSafe's Adaptive Kayak Launches are designed for the widest range of users: young and old, novice and experienced, those who are physically able, those with limited mobility, and even paddlers in wheelchairs. The launch has been designed with the help of Ken Ryno, a C-5, C-6 paraplegic, and input from other adaptive paddlers who enjoy the freedom and independence they gain on the water. Here is a video of Ken entering his kayak independently:
The Most Accessible Adaptive Kayak Launch
The inclusive launch is fitted for kayaks, canoes, and SUPS, and gets everyone in the water safely and easily. Saturday's flotilla connected families with each other, connected families to their community, and connected communities with other communities. The flotilla was clearly a win-win event!
The final number of registrants for the 2022 flotilla reached about 420 paddlers, a significant increase from last year's 225 participants.
Attending the event and showing support for the club's efforts were Glenn Jacobs, Knox County Mayor; Carol Evans, Legacy Parks Foundation Executive Director and Floatmaster of the flotilla; Chris Parrot, Senior VP of First Bank, the community bank that sponsored this year's flotilla; Joe Mack, Director of Knox County Parks and Recreation; Larsen Jay and Terry Hill, Commissioners for Knox County; and Justin Lafferty, State Representative.
Carol Evans, the Floatmaster for the flotilla, attended the first planning meeting about 7 years ago and recognized that people want close-to-home recreation opportunities. "The Great Smokey Mountains are a short drive away, but Beaver Creek is in our backyard and a place where people can stop after work or spend part of their weekend" she said. Ms. Evans also recognized Randy Burleson on the 30th anniversary of Aubrey's Restaurant, whose generous donation to the Legacy Parks Foundation and Knox County Tennessee - Water Trail paid for the BoardSafe Adaptive Kayak Launch at Powell, now being identified as "Aubrey's Launch."
Larsen Jay, a commissioner for Knox County, stated that he has been involved in this project for the last 4 or 5 years. He and his co-commissioners understand the value to the community of the cleanup of Beaver Creek. So much so, that Knox County mayor Glenn Jacobs allocated one million dollars to improve and maintain the 44-mile stretch of water. A dedicated maintenance crew floats the creek every day to take something out. To date, they have removed 704 tons of debris, from small trash to downed trees and dams that have caused stormwater runoff and flooding of the community. Their vision of "Clear it, Clean it, and Care for it" has received overwhelming support from the communities along Beaver Creek.
As the creek has been cleared and cleaned, the water quality has improved, the flooding decreased, and the stream is now open to the community for paddling and fishing. Knox County Stormwater hosted an information booth at the flotilla and provided education about their role in caring for the creek. Its mission of stormwater compliance is to enhance the quality of life for Knox County citizens through education, service, and management of water resources.
Kayaking and other paddlesports have proven to be beneficial to one's mind, body, and spirit, and major factors in the dramatic increase in the number of people who now enjoy the sports. Saturday's flotilla demonstrated an even greater, additional value, because it showed that building and investing in community resources will bring communities together—particularly communities that may not have been connected in the past.
The excitement about these communities investing in an accessible and inclusive BoardSafe Kayak Launch was present before the flotilla started.
Charlie Austin, club president, commented on the Beaver Creek Kayak Club's Facebook page, "Y'all!!! I absolutely could not be any more excited! The new launch docks for the Landing in Powell and Roy Arthur Stormwater Park are heading to Knoxville! These docks are going to be a game-changer for total access to the stream! I feel like a kid that's gotten the best gift ever! I'm so excited for the future of Beaver Creek!"
It's understandable why Charlie is president of the Beaver Creek Kayak Club—his enthusiasm and passion are contagious and you feel it from the moment you meet him.
Charlie wasn't the only one excited about the launches being installed prior to the flotilla. Meredith Millhorn Boatman spotted BoardSafe's tractor-trailer and stopped to post the following picture to BCKC's Facebook page to share her enthusiasm about the accessible launch that was on its way. The club's excitement was contagious as they waited for BoardSafe Docks to arrive.
Facebook photo posted by Meredith Millhorn Boatman
The number of volunteers the kayak club rounded up was too many to count. Blue shirts were everywhere ensuring that everyone was being helped and kept happy. The day could not have been such a success without them.
This 5 a.m. setup crew worked many long days leading up to the event.
Volunteers assisting at Powell Launch (upper photo) Volunteers at Roy Arthur Park exit (lower photo)
The commitment from community stakeholders was also evident by both their time and donations. The local Napa Auto Parts donated water to each participant in the paddling event and Weigles' convenience store donated snacks and refreshments at the first exit and tossed granola bars and treats to those who chose to complete the full 6-mile paddle.
Almost every segment of the community seems to have played a part in this grassroots effort started by the Beaver Creek Kayaking Club and Karns Community Club. Participants included local scouting groups and high school teams who volunteered their time. What a great example this community is modeling for their youth!
The long-range plan of the Beaver Creek Kayak Club is to work with community stakeholders to continue to "Clear, Clean, and Care for" the 44-mile stretch of Beaver Creek. After their extremely successful flotilla, their energy level remains high to continue on down the creek. Connecting communities and getting everyone on the water safely and easily will please the families who reside there, build value by connecting the communities, and make Beaver Creek accessible to everyone who wishes to enjoy its beauty.
Adaptive Paddler Reviews Accessible Kayak Launch After First Experience
If you are interested in learning more about the amazing efforts of the Beaver Creek Kayak Club, you can follow them on Facebook and view hundreds of pictures from this memorable day. To help support this amazing community with their continuing efforts, you may donate here: https://legacyparks.networkforgood.com/projects/161247-beaver-creek-water-trail.
BoardSafe Docks was pleased to play a part in the design and manufacture of adaptive kayak launches for both the Powell and Karns communities. These launches will allow safe and easy access to the water for many years to come. "It was an incredible experience and an honor to have played a part in the event," said Scott Tihansky of BoardSafe Docks. The excitement and sense of community could be felt by everyone involved. Every paddler ended their day with a smile. "Incredible." "Amazing." "So easy." "This is so awesome!" These were comments heard from paddlers as they exited their kayaks after the 6-mile paddle to the Karns Community Launch.
Click on the following link to view more pictures from the Beaver Creek Kayak Club 2022 Flotilla:
https://www.icloud.com/sharedalbum/#B0l53qWtHZdfDR
BoardSafe Docks is a trusted designer, engineer, and manufacturer, of all types of aluminum floating docks and fishing pier systems. Their adaptive kayak launch and design knowledge about specific adaptive features necessary for paddlers in wheelchairs help make inclusive paddling happen for many cities, towns, lakes, and riverfront communities.
BoardSafe also specializes in designing and manufacturing rowing centers for national collegiate rowing teams all across the USA. You'll find their gangways located all across the United States in places like the TD Garden in Boston and Battery Park in New York. They find solutions for many design questions that leave architects and engineers scratching their heads. BoardSafe is the go-to source for any project on the water. Their sales team is always available for questions, consultation, and to assist you in finding your optimal waterfront solution.
To learn more about our projects, please visit our website, BoardSafeDocks.com, or contact us at 610-899-0286.