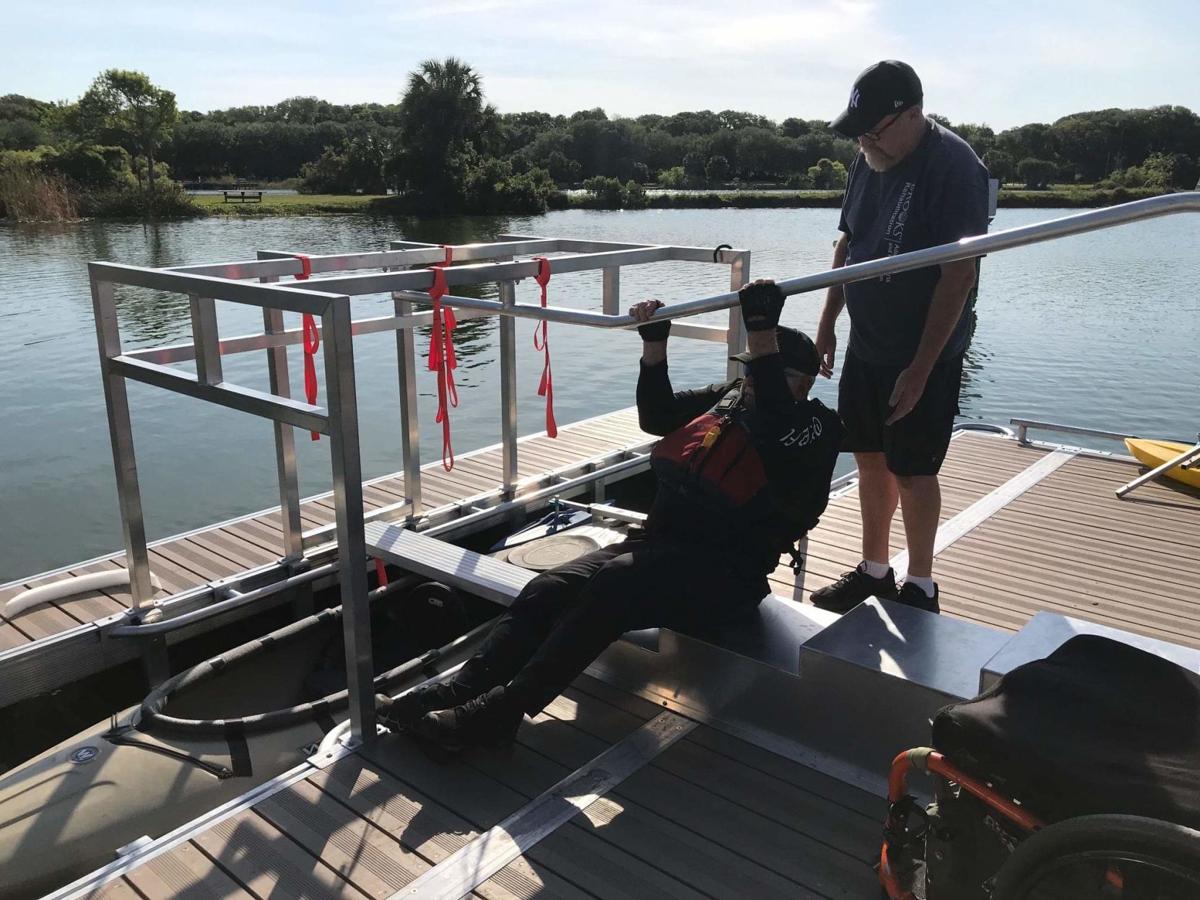 "Just because a product is marketed as 'accessible' doesn't mean that we can actually use it" — Michael White, avid outdoorsman and paddler who lived with spina bifida.
BoardSafe's accessible kayak launches maximize the numbers of users in a community who can use the launch to be truly inclusive for those with
moderate to severe physical challenges.
Direct quotation made prior to becoming a BoardSafe client (See below for client testimonials.)
"Not only are the transfers of some with mobility impairments questionably safe but also the moving of the kayaks in/out of the water. I was not comfortable with the consistent level of safety that we are able to provide for our volunteers, all staff and, of course, our participants." — Alice Krauss, M.Ed., OTR/L, Manager, Adaptive Sports and Recreation, Brooks Rehabilitation
BoardSafe Docks understands the needs and concerns of adaptive athletes, so we have worked with them to engineer ADA-accessible kayak launches that incorporate our unique aluminum materials and floating mechanisms.
Here are some of the features that make BoardSafe docks the perfect choice for paddlers.
ADA-compliant features include a uniform 1:12-slope aluminum gangway that is adjacent to the composite-decking boat slide. This design allows individuals to ease their kayak down the slide while they travel along the gangway.
The floating dock and gangway have a 36″ continuous handrail along the perimeter, consistent with ADA requirements.
Aluminum floating docks with boat access are engineered for maximum flotation stabilization considering the size, number, and placement of plastic-encapsulated floats. The marine conditions and water movement (tidal waters, rivers, lake ice, etc.) are also considered.
On the floating dock, there is a loading bench that is 16″ high. Our group of adaptive kayakers determined this to be the ideal height to allow them to transfer over from a wheelchair. On the loading bench, there are four levels with four-inch rises. The athlete can use the handrail that runs the length of the bench to guide himself or herself along the bench to the boat. On the last transition, there is a pullout seat that extends out and across the top of the boat. The users can simply slide across the pullout seat, locate themselves directly across the kayak seat, and guide themselves into the boat.
Surrounding the kayak is the roll cage. It is a frame of handrails and hand straps offering the individual numerous gripping options for lowering into the boat.
Supporting the boat in the water is a partially-submerged bracket system to stabilize the kayak.
Our kayak launches are stand-up paddleboard (SUP) compatible, allowing the adaptive athlete to participate in the rapidly-growing SUP sport.
Client Testimonials
"We have been VERY impressed by BoardSafe, and they have developed a system which we feel is superior to the EZ Dock system." — Leon Mertz, Lake Loramie Improvement Association
"BoardSafe has all the features to provide the most access to the greatest number of users." — George White, Wetland Biologist, Team River Runner
Chapter Coordinator
"After a Category 3 hurricane flooded our area we found that all the kayak launches were ripped away, except for the BoardSafe launch. It didn't move an inch." — Chris Camp, Principal Engineer, City of Cape Coral, FL
"The construction and installation of our new ramp and dock was flawless…we are the envy of our neighbors on Boathouse Row in Philadelphia." — Michael Ragan, Pennsylvania Barge Club