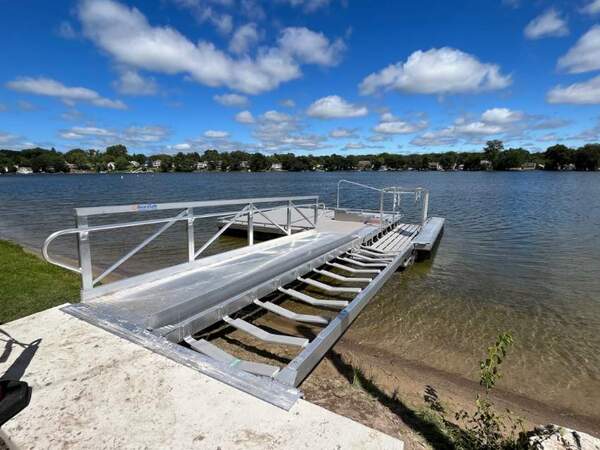 The City of Howell, Michigan, is the newest recipient of a BoardSafe Docks Adaptive Kayak Launch. Thompson Lake, located within Scofield Park, is pleased to promote itself as a kayaking destination accessible to enthusiasts of all abilities. The accessible and adaptive launch offers universal access to all and is now open for public use.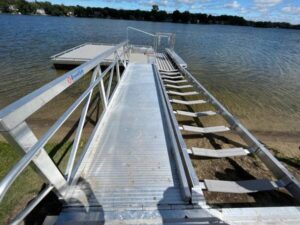 The City of Howell went out for public bid for the launch in early March 2023 and was passed by a City Council's vote in late March. BoardSafe Docks was identified as the lowest bidder and offers a high-quality, aluminum-welded, adaptive kayak launch that is accessible to all. The launch was delivered to the City of Howell in May and was installed by their maintenance crew in mid-August.
Meeting the needs of people with disabilities was a priority in determining which projects they should fund. The new kayak launch uses a series of ramps, handrails, and platforms to assist those having varying mobility needs with launching canoes, kayaks, and other non-motorized watercraft into Thompson Lake. A gently-sloped ramp provides a sturdy avenue for people who use wheelchairs, walkers, and other mobility devices to access the floating dock. Once on the dock, individuals can place their boat in an underwater saddle that securely holds the watercraft in place while the boater uses overhead support to lower themselves safely into their vessel.
The BoardSafe Adaptive Launch Project included a:
20-ft gangway and aluminum kayak chute.

(2) 8×16 floating docks.

(1) kayak launch with the Adaptive Boarding Kit that consists of:

tiered, step-down bench with pull-out seat.

overhead grab bar with grab straps.

instructional sign for proper usage.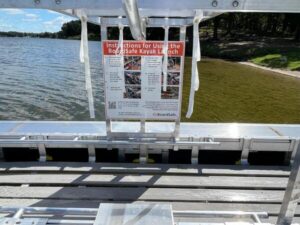 A link to the city's Scofield Park and its amenities is available here: Scofield – Explore Brighton Howell Area.
The new, much-anticipated kayak launch with universal access has been installed near the beach area at Thompson Lake.

The new launch will allow people of all abilities to launch their kayaks and bring them back to shore safely and easily. It's something the community expressed a desire for, that will improve all users' paddling experience.

In addition to the new launch, other improvements are planned at the park, including new accessible ADA-compliant restrooms and concession facilities. Both bathrooms were ordered in April of this year, with an anticipated delivery date of next April.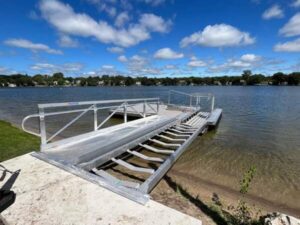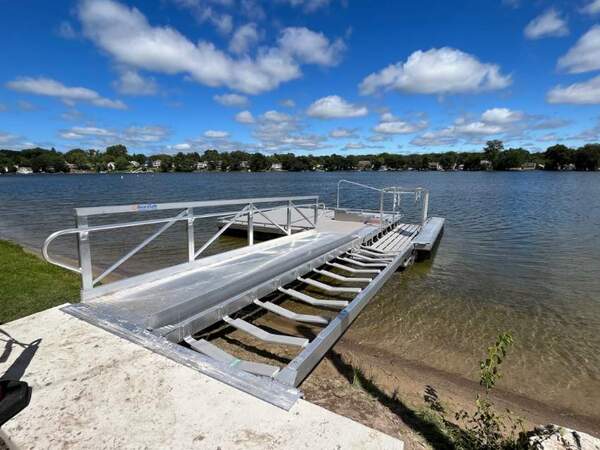 Communities who are looking to increase accessibility for all paddlers and considering adding an adaptive kayak and canoe launch to their local lake or stream should click the following link for more information:
Find the Best Adaptive Kayak Launch Site—BoardSafe Docks
Because every site location and application is different, BoardSafe Docks has become the industry expert in location selection, site work, design, engineering, manufacturing, and installation of floating docks, piers, and adaptive kayak and canoe launches.
To discuss your project and learn more about BoardSafe Docks, our specific adaptive features that work for the widest range of users, our durable and long-lasting construction, and long-term maintenance suggestions, please call us at 610-899-0286 or contact us at BoardSafeDocks.com.