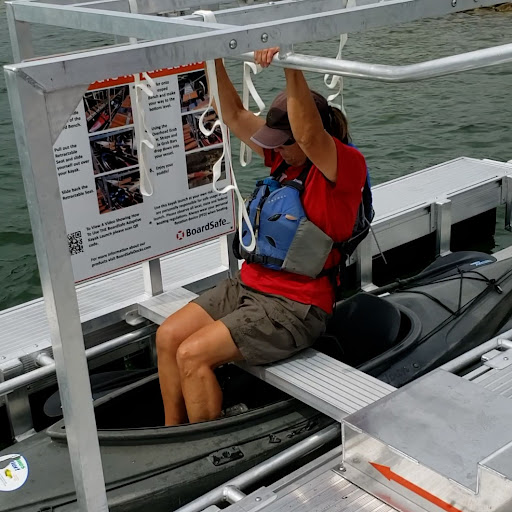 The Ada Hayden Heritage Park, located at 5205 Grand Avenue in Ames, Iowa, just announced the addition of another accessible amenity to its beautiful park. The mayor, city council, Parks and Recreation Commission, and city staff, are pleased with the addition of a BoardSafe Adaptive Kayak Launch. This additional amenity adds to the endless recreational opportunities already available at the Ada Hayden Heritage Park. Additional park amenities can be found in the link below:
Ada Hayden Heritage Park | Search All Parks & Facilities | City of Ames, IA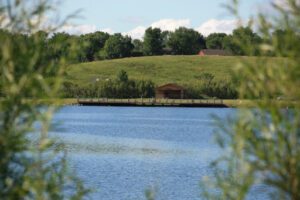 The lake already has a reputation as "a great place in Ames for Kayaks," and now with their newly-installed adaptive kayak launch, it will be even better. The launch provides adaptive paddlers, including those in wheelchairs or experiencing mobility issues, a safer and easier transition into their canoe or kayak because of the stability and adaptive features it offers to all paddlers.
The city has been planning for the launch since last year, and has done an amazing job seeking and gaining the community's support for the park's additional accessible amenity.
The adaptive kayak launch project was funded by the city's Capital Improvement Plan funds, and over $36,000 in grants and fundraising donations through Access Ada Hayden.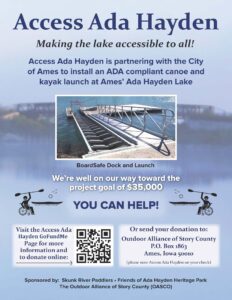 A significant portion of the funds for the kayak and canoe launch was donated directly by Ames athletes and local sponsors. They were happy to contribute to a project that would improve access for everyone and improve the Ada Hayden Heritage Park.
Access Ada Hayden was a joint effort among the Skunk River Paddlers, Friends of Ada Hayden Heritage Park, the Outdoor Alliance of Story County, and JAX Outdoor Gear. The money they were able to raise through fundraisers and donations is evidence of the support the city of Ames has from their community. "We started looking at the accessible dock and launch systems early in 2019 to make the lake accessible to all," said Rick Dietz, a member of the Skunk River Paddlers and primary contact for Access Ada Hayden.
JRM Construction, of Ames, Iowa, was selected to complete the site and concrete work and began excavating around the second week of August 2022. Once the site work was completed, the city's maintenance staff was able to accept the launch from BoardSafe Docks, who designed, engineered, and manufactured the custom-designed launch. City staff from the Public Works Department received instructions on the easy assembly and installation of the floating launch system.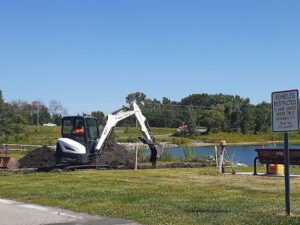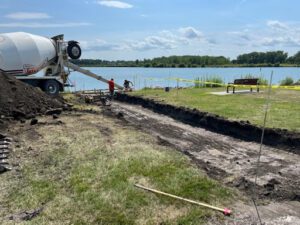 Joshua Thompson, Ames Parks and Facilities Superintendent, was present for the installation and described the accessible kayak launch as "very easy and straightforward to install." He said the launch was incredible and well made and offered compliments to BoardSafe Docks for the quality of the kayak launch.
The Board Safe Adaptive Kayak Launch features an aluminum floating dock, an ADA-compliant gangway, and an adaptive kit with specific adaptive features that allow paddlers in wheelchairs the opportunity to enter their kayak safely and easily. The kayak launch cradle stabilizes the canoe or kayak as one enters, and the step-down bench, overhead grab bar, optional grab straps, and grab rails accommodate people with a wide range of physical limitations. Here is an informative video of an adaptive paddler using the launch independently.
"One of our goals in improving our recreational amenities is to ensure all residents can enjoy being outdoors," said Ames Parks and Recreation Director, Keith Abraham. "We continue to seek ways to expand parks, facilities, and programs to be inclusive, and we encourage everyone to explore our offerings and share ideas with us for new options."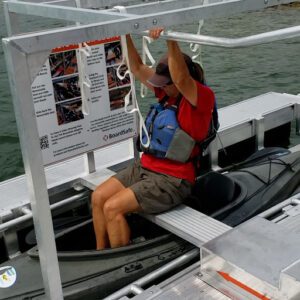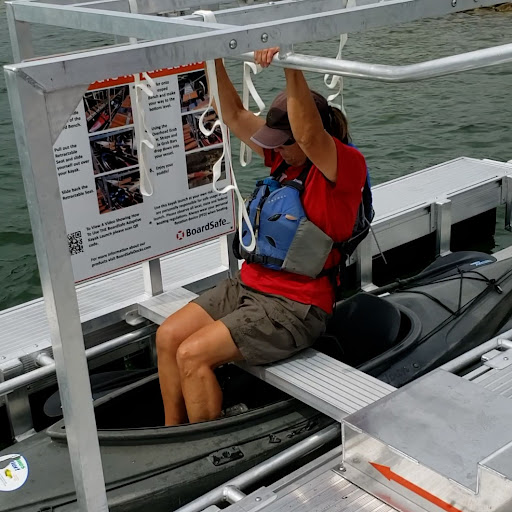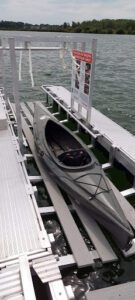 Watch a demonstration of Ada Hayden's new launch:
The Ames Parks and Recreation Department manages 38 parks and offers approximately 180 athletic, aquatic, instructional, and wellness programs to residents of the Ames community. Indoor programs are provided year-round at the Community Center and Ames/ISU Ice Arena. 
For more information, visit the Ames Parks and Recreation homepage at amesparkrec.org.
The City of Ames has won numerous awards over the years for being a progressive and innovative city. These awards highlight the wonderful aspects of Ames that residents have enjoyed for years. They are known for a stable economy, friendly people, beautiful parks, great shopping, quality schools, growing cultural and entertainment venues, comprehensive healthcare, and acres of recreational opportunities that are available during every season. Throughout Ames, there is evidence of growth, commitment to the environment, and quality of life. Ames is located centrally and conveniently in the heart of Iowa and the Midwest. Iowa State University is located in Ames.
Ames has the feel of a small town but the heart of a big city. Their population is a little more than 65,000. It offers cultural, recreational, educational, business, and entertainment amenities more common in bigger cities. As a growing city, Ames continues to focus on building a strong community filled with opportunities for all. The slogan they've become known for is Ames, Iowa, the Smart Choice!
Since 2020, Ames has received many awards and recognition for its progressiveness and improvements:
#1 River Town of the Year (Iowa Rivers Revival, 2021)

#1 in the 10 Best States to Retire in 2021 (MoneyRates, 2021)

#2 – "State Parks That Rival National Parks" (

Livability

, 2021)

#5 – "Best Iowa High Schools" (

U.S. News & World Report

, 2021)

#21 Most Livable College Towns (SmartAsset, 2021)

#22 – "Top Cities for Shorter, Better-Paid Hours" (

RewardExpert

, 2021)

#37 – "Best Small Cities for Small Businesses" (

Go.Verizon

, 2021)

#1 – "10 Best States to Retire in 2021" (

MoneyRates

, 2021)
Ames Parks and Recreation Department invites the community to a ribbon-cutting ceremony for the new accessible kayak/canoe launch recently installed at Ada Hayden Heritage Park. The event will be held at 5:30 p.m. Wednesday, Sept. 21, at the north side of the lake at 5205 Grand Ave.
The Parks and Recreation Department is hoping the community stakeholders who offered financial support for the launch will attend the ribbon-cutting ceremony and find the adaptive features a welcome amenity for entering and exiting kayaks. For those using the launch, please post more pictures to the Access Ada Hayden Facebook page, and share with others how these features help enhance the user's kayaking experience and so spread the word about the adaptive launch.
Click here to read about other BoardSafe Adaptive Kayak Launches:
Communities who are looking to increase accessibility for all paddlers and are considering adding an adaptive kayak and canoe launch to their local lake or stream should click here for more information:
Since every site location and application is just a little bit different, BoardSafe Docks has become the industry expert in location selection, site work, design, engineering, manufacturing, and installation of floating docks, piers, and adaptive kayak and canoe launches.
To discuss your project and learn more about BoardSafe Docks, our specific adaptive features that work for the widest range of users, our durable and long-lasting construction, and long-term maintenance suggestions, please call us at 610-899-0286 or contact us at BoardSafeDocks.com.